Summer Retreat 2014: The Blog
August 17th, 2014
It's already the end
Immersed in the intensity of this retreat, through the power of the blessings of Our Masters, no one has noticed the time passing. All of us have the impression that we arrived yesterday. Yet this is the last day! Organised by the Tibetan community, it is entirely dedicated to HE Tertön Namkha Drimed Rabjam Rinpoche.
The long life ceremony
The day started very early with a puja, followed by the presence of Namkha Rinpoche at 10am. At 9am the Tibetans arrived and began to settle in with their babies and children who had come for the festival. Once again, the atmosphere reminds us of ceremonies in Nepal and Orissa. The temple was packed and some people who were not really able to enter, sat on the stairs. Then representatives of the Tibetan community and RIC students presented offerings to Rinpoche and finally we were all able to offer our katas. It was a deeply moving experience.
Slide show 1
Lingdro Dances
In the afternoon a group of the Tibetans offered the Lingdro dances to HE Namkha Drimed Rinpoche. We could see his happiness as he looked on and as he thanked and blessed the dancers at the end of their performance. He has reminded us repeatedly how these dances are not ordinary dances, but a real practice. In a way it was as though we were following some passages from a real opera dedicated to the spiritual adventures of Gesar. These adventures are also reminiscent of our own great medieval epics. Everyone is joyful, including the dakini dancers who leave to enter again by the small staircase that served as their stage. At the end of the entertainment there were so many cameras taking photos that one could almost imagine being at a public event.
Slide show 2
Our sangha grows
With the future Ripa Center in Moscow and the future monastery of our Lineage in Kalmykia, our sangha resolutely continues to grow internationally. In Russia, the site is in full development and at present it very much resembles our Swiss Center two years before the inauguration! Many Russian friends are here with us and they presented their project. Some friends of Kalmykia are also here after a rather long journey and they too presented the plans for their monastery. Both have been blessed by our Masters. If all goes well, the opening ceremonies are expected to be in the coming year in 2015.
Slide show 3
Great memories and anecdotes
Great memories first with some pictures of our Masters, the family, Khenpo, Lamas and monks. Gyetrul Jigme Rinpoche is, of course, always present, and not just with the beautiful quote placed above his photo. Then we discover successively: the queue to enter our Gompa, the important role of the beautiful cloth to create hangings in the decoration of the temple, the temporary aerial for the radio to broadcast the teachings on site and a reminder to keep silence … difficult to follow!. Then one last time there is a beautiful rainbow in the sky above our Center. That says it all!
This blog is therefore closed until the next time. We hope to have shared with you a little of our joy in these unique, unforgettable and sometimes amusing moments of this summer retreat of 2014.
Best wishes in the Dharma,
Your  Ripa International Center – Team
August 16, 2014
Gongter … Days that will remain in our memories
The program you have previously received indicates all the transmissions that have been taking place since August 6. As you can no doubt understand, they surpass anything imaginable. Some days there were about two hundred fifty participants … A recount of those memorable days
: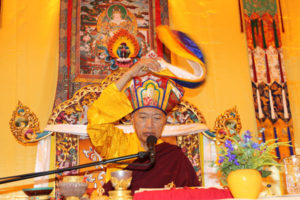 The manuscripts of Gongter
This is the story of these unique manuscripts. Sherab – a member of the Ripa community in Nepal – is the sole holder of the computerized version. H.E. Namkha Drimed Rabjam Rinpoche, has not authorized anyone else to own a copy. But long before they were computerized, these invaluable texts had a rather surprising history. Whenever a Terma emerged from his mind, Rinpoche transcribed it immediately "on the spot". As one can imagine, afterwards this could not have been very easy to decipher and only one monk in Orissa was able to read and understand the text. He was therefore put in charge of transcribing Ripoche's handwriting into plain Tibetan. Ever since the death of that monk, Sherab has been responsible for the digital archiving of these texts. The entire Gongter of His Eminence is contained in 17 volumes of pujas (with the same presentation as our practice texts). Each volume has between five hundred to over a thousand pages and as the text is written on both sides, that doubles the size! The digital transcription of the entire Mind Treasures including the initiations was of course expected to be complete in time for this retreat. Sherab however, was unable to finalize the work before his departure, so therefore he had to travel with the manuscripts by plane all the way to Switzerland. And it is here in Ried that he has spent his days and also many nights in producing the complete computer version. It is partly thanks to him that we are able to attend such a significant event.
Slideshow: the entire termas of HE are preserved in the large library of the P'arping monastery in Nepal; a few pages in HE's handwriting; the computer version.
About the empowerments
Many students have been contributing in a crucial way so that all the participants are able to enjoy the best experience of the empowerments given by His Eminence and Lhuntrul Rinpoche. The translators are truly remarkable. Our Vanessa is brilliantly translating from Tibetan into English, which is then translated into German, Spanish, French and Russian by the national translators who are also doing an amazing job. Nadya and a small team of helpers have been masterfully gathering and laying out flowers. Yesterday for example, on the day of the initiation of Gesar in his magnetizing form, we all had to wear a necklace of red flowers-made from fresh flowers of course! Over two hundred and thirty necklaces were prepared for us before dawn. And then there is the Tsok team who need to prepare one or two Tsoks every single day. And let us not leave out our sound engineers who manage considerable installations of endless lengths of cable spreading out in every direction, the handheld microphones, as well as a connection from each translator to the right set of headphones with its own radio wavelength … a real headache. There is intense activity in the kitchens as well, both the one for the Masters and their family and the one catering for the many participants. Finally we have the well-stocked shop, steeped in the smell of both hay and incense …A real treat!
Slideshow: a small selection from all our "peripheral" activities
A little relaxation!
Please don't be mistaken! The relaxed air of those you can see in this slide show is definitely not representative of the general rhythm of this retreat. This is far from a holiday on the beach! And even though we are "energized" by Our Masters, fatigue is also accumulating. The midday meal is a break often shared among friends, or enjoyed alone sitting on the grass. Another relaxing moment is discovering the Lingdrö dances which much to our delight will be carried out for a few more sessions. Professional Tibetan dancers have now arrived and are rehearsing the dances that will be offered during the afternoon of August 16th, following the long-life ceremony that will be given for His Eminence in the morning.
Slideshow: Lunch break, Lingdrö dances and Tibetan picnic after the rehearsal
And another rainbow!
During one of our Lingdrö dance sessions we saw a double rainbow just above the Center …some assure us that there were four! HE Namkha Rinpoche had already produced a few earlier in the retreat and in particular, one just before the inauguration. Then the arrival of Lhuntrul Rinpoche was also accompanied by a rainbow. Our Center is becoming quite famous for this in the local neighborhood, so much so that one of us, who spoke with one of the nearby residents at the Saga Dawa festival, even received this comment: "Oh yes, this is the famous place where all the rainbows appear! "… Enough said!
Stay tuned for our latest blog from this retreat and your Ripa Center.
August 14, 2014
Awakening to the Treasures of Guru Rinpoche
The experience I am having here, day after day, is like making a pilgrimage to the Land of Guru Rinpoche, throughthe transmissions offered in joy and compassion thanks to the kindness of His Eminence Tertön Namkha Drimed Rabjam Rinpoche.
In my imagination, there exists on this earth a sacred place where water gushes forth with thousands of perfumed scents, surrounded by the sound of songs of the Dakinis and the conch being blown. Every sentient being who plunges into this water ispurified of their veils of obscuration and they enter a space of peace, happiness, joy and rebirth, benefitial for humanity. As this source manifested, I made prayers and wishes.
Through the transmission of the Treasures of Guru Rinpoche I discovered – like a mystery – that this source exists within us, constantly nourished by the great goodness of our Masters: His Eminence Tertön Namkha Drimed Rabjam Rinpoche, Dungsey Gyetrul Jigme Rinpoche and Dungsey Lhuntrul Dechen Gyurme Rinpoche.
Beyond thoughts, how can I thank you? So as this Treasure unfolds and is displayed within us, may an olive tree of peace take root in every human being.
Annie (France)
How wonderful!
Every day we welcome the infinite goodness of His Eminence and Lhuntrul Rinpoche. With each initiation we receive their blessings and benefits.
How wonderful!
My rising thoughts are filled with recognition.
They go out to Gyetrul Jigme Rinpoche and all the sangha
as well as to all beings and all levels of existence.
Everything is vast and spacious.
My heart is wide open and full of joy.
L otuses are beneath our feet.
How wonderful!
I prostrate.
Christine (France)
 'Practice from Afar'
I was unable to attend the summer retreat this year-the first time I have not been present-so I was determined to be connected.  A few days before the retreat began, like the students who had arrived early at RIC, I made preparations in my apartment so I could truly invite all the Masters, Guru Rinpoche, Gesar etc. I polished, dusted, vacuumed, cleaned windows and prepared my shrine, especially cleaning all the offering bowls. I then prepared rice ready for offering the long mandala each day & checked that I had all the relevant practice texts, CDs & photos.
I have been following the programme as shown on the RIC website, so the first day of the retreat I got up early & did the Ripa Ngöndro & I'm continuing to do that for the duration. I do all my chanting with Jigme Rinpoche on the CD. I have to admit though, I don't always begin at 6.30am as was my intention & it's often nearer 7.00am & I don't accumulate long prostrations- usually just 3- and I'm counting Vajrasattva instead! Though I do visualise the rest of you doing them on my behalf!!
So then I was really ready after the first introductory week of the retreat for the Gesar Drubchö. Each morning for the 3 days I made the complete Gesar sadhana (with Gyetrul Jigme Rinpoche chanting on the CD) & also did the smoke offering enthusuastically waving the new Gesar flag I had bought. I could only light a stick of incense in my apartment so I had to imagine all of you throwing lots of offerings into the huge fire at RIC. It felt so strong and as Gyetrul Jigme Rinpoche was also attending the retreat in mind but not with his physical presence, I also felt I was truly there.
My apartment now feels so blessed and I'm so fortunate that I live alone and have retired so I can spend all day here. I did a Guru Rinpoche tsok offering on the 10th. Day & also the following day when you were all receiving Guru Rinpoche Gongter.
Now I'm continuing with Gesar practice the days you receive the various Gesar empowerments and on the 16th. August I will make a special practice for the long life of Namkha Rinpoche and all our masters.
Thank you so much for the blog and all the inspiring photos which I receive very quickly. They truly help one to feel fully connected.
May you all continue to have a wonderful retreat, may the Masters continue to have good health and to shower us with their blessings and may our dedication help the troubled world in which we live, especially in areas of war such as Iraq and the Gaza strip and where there is serious disease in parts of Africa. May all beings come to experience peace and true happiness and may they all eventually have the wonderful opportunity we have been granted of meeting with the precious Dharma. How fortunate we are to have this wonderful time with health intact & freedom to follow our dreams and aspirations.
My love and best wishes to you all.
Your little Dharma sister Frances
August 11, 2014
Gongter Presentation
We are very happy to be able communicate a short presentation of the Gongter by His Eminence Tertön Namkha Drimed Rabjam Rinpoche, transmitted by himself and Dungsey Lhuntrul Dechen Gyurmey Rinpoche. Also enclosed is a schedule of the empowerments we are receiving at present.
Don't hesitate to join us from a distance, and to practice with us, if you have already received the empowerments. You can also simply meditate with us.
His Eminence, Great Terton Namkha Drimed Rabjam Rinpoche  
During his visit to Tibet, Guru Rinpoche gave countless Tantric teachings to King Trisong Detsen, the princes and to all of his disciples. Guided by infinite love and compassion, most of these teachings were hidden to benefit future generations. These concealed teachings constitute the Terma Lineage and are classified into two categories: the Earth Treasures and the Mind Treasures or Gongter.
The Earth Treasures were written in a symbolic language, known as Dakini script, a secret form of writing, and they were then hidden in the ground, rocks, trees and water by Dakini Yeshe Tsogyal and some of Guru Rinpoche's main disciples. The Mind Treasures are also known as Gon Ter, Gon means 'awakened mind,' a mind that is not confused, and refers to one who abides in the true nature of mind and phenomena. The general meaning of Ter is 'endless' in the sense of 'extremely abundant,' like an ocean. In the same way, by the blessings of Guru Rinpoche, the brief and extensive texts and their meaning flow profusely from the awakened minds of the Tertons to benefit all sentient beings.
Specific to the Vajrayana Nyingma School of Tibetan Buddhism, the Termas can only be discovered by a Terton. These great spiritual masters of Tibetan Buddhism are all emanations of Guru Rinpoche. Over the centuries, they have discovered the spiritual treasures hidden in the time of Padmasambhava. A Tertön is an incarnation of Guru Rinpoche and directly received his teachings in a previous life. This was particularly the case of the twenty five great disciples.
In past lives, H.E. Terton Namkha Drimed Rabjam Rinpoche was born as one of the greatest masters of India, the Mahasiddha Humkara. And also in Tibet in the eighth century as Lhopon Namkhai Nyingpo, one of the twenty-five main disciples of Guru Rinpoche who accomplished a great level of realization. In his current life, he clearly remembers having been Gyatsa Zhalkar, the brother of Gesar.At the age of thirteen he vividly met Guru Rinpoche in a vision and received his blessings. From that moment he repeatedly encountered the Three Roots, especially Gesar and his retinue, and received blessings from all of them. As a result, his Mind Treasures (Gongter) started to arise in his mind stream.
Photo courtesy of Caroline McKechnie –
Dungsey Lhuntrul Dechen Gyurme Rinpoche
Recognised as an emanation of Tamdrin Hayagriva, Dungsey Lhuntrul Dechen Gyurme Rinpoche is the son of His Eminence TertonNamkhaDrimed Rabjam Rinpoche. He has received numerous transmissions by great masters such as H.H. Dilgo Khyentse Rinpoche, H.H. Penor Rinpoche, H.H. the Dalai Lama and H.E. Kalu Rinpoche. He received the transmission of the Taksham Cycle of teachings and of the Treasure of Gesar from his father. The strength of his presence and the radiance of his heart have deeply touched those Western students, who have already had the opportunity to receive teachings and transmissions from him.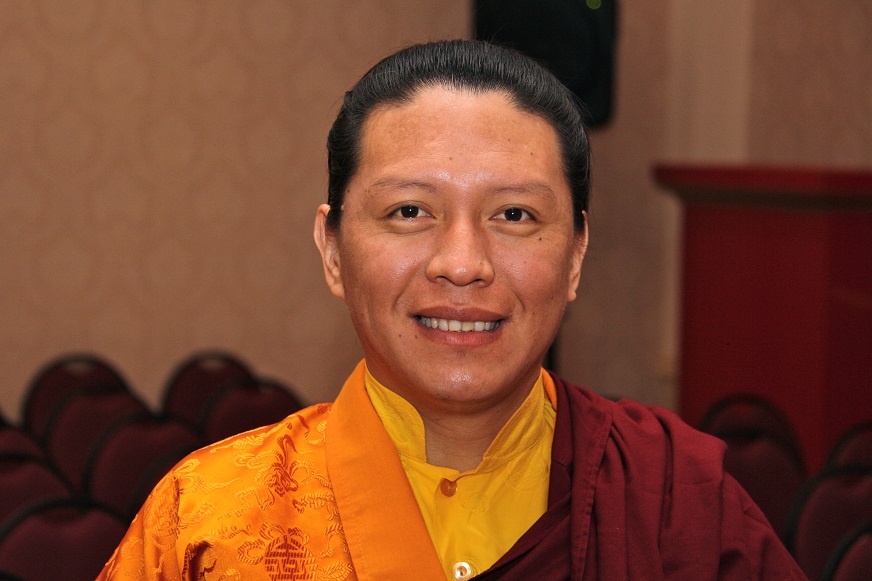 The Gongters of His Eminence are characterized by the Rigsum Norbui Gongdzö Cycle – The Treasure of Gesar, the Incarnation of the Three Families – but also include the practices of the Three Roots. The practices of Guru Rinpoche include the peaceful and wrathful aspects of the Guru, as well as the short, medium and long sadhanas of Guru Rinpoche and the Dorje Dröllo Cycle. The Yidam practices consist of the Vajrasattva and Vajrakilaya cycles. The Dakini practices include the short and long sadhanas of Yeshe Tsogyal. The Rigsum Norbui Gongdzö Cycle covers the three aspects of Gesar, as Guru, as Yidam performing the Four Enlightened Activities of pacification, enrichment, magnetism and subjugation, in connection with the hundred deities of Shitro, and as the Protector in the form of Gesar Drala.
 Gongter Transmissions: from the 6th to 16th August 2014
 6th pm Introduction to Gongter (Mind Treasure) – H.E.
7th am Guru Rinpoche – H.E.
pm Dorje Dröllo
8th whole day Vajrakilaya
9th am Dakini Yeshe Tsogyal
pm Dorje Sempa – H.E.
10th am Gesar Lama
pm Pacifying Gesar
11th am Magnetizing Gesar – H.E.
pm Gesar Lord of Drala
12th whole day Shitro (100 peaceful and wrathful deities) – H.E.
13th whole day Wrathful Gesar extensive Empowerment – H.E.
14th whole day Wrathful Gesar brief Empowerment with Gesar Protectors
15th am Enriching Gesar – H.E.
16th am at 6.30 His Eminence's Long Life Puja and Thanksgiving
Ceremony
pm LingDro Dances
The empowerments given by His Eminence are shown in bold script, the others are being bestowed by Dungsey Lhuntrul Dechen Gyurme Rinpoche.
August 5, 2014
Gesar Drupchö and Lingdro dances
These three days of deep and intense practice began with a teaching by H.E. Tertön Namkha Drimed Rabjam Rinpoche. In the evening, those interested had the opportunity to learn the Lingdro dances, which are directly related to Gesar….
In his introductory speech, His Eminence first spoke of Gyetrul Jigme Rinpoche: "As the head Lama, well I myself am now older, so the principal Head Lama for the Sanghas is Gyetrul Jigme Rinpoche. " He added: "Even though he is not here physically because he is in retreat in Nepal, which is going very well, we should all feel joy in our hearts that he is in retreat and at the same time here with us in spirit. Where he is in Nepal is a very sacred place and so the retreat is going very well, I know. " H.E. then talked about Gesar saying, "In essence Gesar is a Buddha. He came to this world of beings as the embodiment of all the three deities, but actually he came in the form of a human being, but he is a Buddha. He came for the benefit of all sentient beings." Finally, he reminded us: "Pray without doubt, without any skepticism, single-pointedly with faith. … That's why Guru Rinpoche said, "The blessings enter when you have complete and total trust and the faith of total surrender."
With conviction we practiced the Drupchö, being supported and carried by H.E. Namkha Drimed Rabjam Rinpoche, Lhuntrul Rinpoche, Anzin Rinpoche, and the "music." As Umzé (leader of the chanting), Tulku Karma Shedrup guided us effortlessly through the recitations. Tirelessly – and that for several hours a day – his voice resonated and deeply touched us. The Tibetan instruments that accompany the ritual were played by Lamas, monks and students of American, Spanish, French, German and Italian origin, men and women alike. Our sangha advances gently in its encounter between eastern and western cultures. We are gathered together in practice, and around the same Masters, as we recognize, meet up with, and discover more and more about one another.
Another meeting place between cultures – the Lingdro dances. They took place on the sports field where the young – and young at heart – usually play football and basketball. Every day for an hour those interested were able to discover the dances. Semo Sonam, Semo Palmo, Tulku Karma Shedrup, Lamas and monks trained us. As His Eminence Namkha Drimed Rabjam Rinpoche had already said last year, "These dances are related to the awakened activities of King Gesar … These are not ordinary dances … They are practices that help us overcome the challenges we face on the path to enlightenment and they support us in our development." Semo Palmo also explained that this dance is "an offering and we should place our arms outstretched, as if offering a kata to the deities." The students' opinion is unanimous: "In this second session we feel progress … We are devoted and studious but we laugh a lot, too. Everything happens with good spirits and joy … And then when we all come together with the songs of Semo Sonam and Palmo, of Karma Shedrup and Lama Tendzin on the cymbals, what joy! We really feel as a family and it's great!"
Finally, a few words about the little things around us – there are flowers everywhere: on the tables of our Masters' thrones, growing naturally, and near the tsok offerings. More unexpectedly, the path leading to our gompa is a true delight strewn with roses, in the dining room bouquets adorn the prayers before meals … and we even discover them near the reserved spaces for our shoes!
Can you feel the atmosphere of this retreat at a distance? Here it is like a great human and spiritual adventure being built, so do not miss it. Next time try to come!
Stay tuned for more news from your Ripa Center.
August 1, 2014
First week of retreat and great preparations: it's begun!
Turning our attention to Sutrayana as well as the practice of Yogom and Shiné, the first week of our summer retreat took place in a warm family atmosphere despite persistent rain and cool temperatures. Regardless, the preparation of the second part of the retreat warmed us up!
We can only repeat ourselves, the teachings of Sutrayana by Khenpo Pema Thenpel are nothing but exciting, especially when they are being so brilliantly translated from Tibetan by Vanessa.Her choice of words so touching, so vivid and obviously true,gave us the impression that we understood the Tibetan! During this third year of the first cycle, we continue to make progress in our discovery of 'The Treasury of Precious Qualities'by Jigme Lingpa. And I must say Khenpo's explanations are essential. They illuminate our questions and open up horizons. This study week was as strong as ever, for Khenpo is not only an authentic source of Tibetan and philosophical teachings but he is also responsible for the Ripa monastery in Orissa. Timidly, step by step, we are moving along in our continual discovery of this great culture of Dharma. Newcomers are especially pleased that the teachingsare remarkably well complemented by the practice of 'Yogom' led twice daily by François, in addition to a session of Shiné every evening.
Meanwhile, we all participate – each in our own way – in the preparations for the second part of the retreat.And we are not alone! Those who came primarily to help, spend their entire day preparing. Nothing less but the transformation of the gym into a gompa was required,which alone took more than two hundred and fifty hours to complete;only to have to be entirely dismantled after August 17th! Tapestries were hung from the ceiling to cover the walls with a beautiful bright yellow fabric. Thrones have been installed and exquisitely decorated and a shrine was set up. This year, students will be sitting on beautiful Tibetan carpets donated by some of the students and imported directly from Nepal. Finally, we must prepare for the accommodation of the expected large number of participants. The shop, for example, has been transformed into a dormitory and the shop has been moved temporarily to one side of the barn. There is additional space for camping and the first tent is already up. In total, there are sixty good camping spaces.
For their part, the Lamas and monks are preparing tormas for the Gesar Drupchö. As you will see in the slideshow, they start by making a paste with tsampa (roasted barley flour), butter and some other ingredients. Once the right consistency is obtained, it will be sculpted by hand into various tormas, then painted and decorated. Other Lamas and monks are already intensely engaged in the preparations required for the long-life ceremonies for H.E.Tertön Namkha Drimed Rabjam Rinpoche. Thousands of mantras need to be written on small strips of yellow paper then impregnated with saffron water. Once dried, they are wrapped into small tight rolls then placed inside the body and in the lotus base of small statues as well as within small stupas.These will later be offered to His Eminence. The statues also contain a piece of wood with mantras wrapped around it and then covered with beautiful fabric. This piece of wood is called 'Soc Shing'meaning the wood of life, and represents in fact the central channel of the body.
This evening we are in our gompa for the first welcoming talk and tomorrow we will begin the Drupchö with the preliminary practiceof Ngöndro at 6:30am. As usual, it is the children who have the last word! Yasmin Pema, a very young Tibetan girl born in Switzerland, sang yesterday with great conviction: "Papa … Papa Sambhava Sambhava Sambhava … Papa!"
Stay tuned for more news about this summer's retreat and from your Ripa Center.
Slideshow: Sutrayana and yogom – Tormas for the Gesar Drupchö- Mantras for the long life ceremony of His Eminence – our ​​gompa, dormitories and camping.
Friday, 25th July, 1st Blog
H.E. Tertön Namkha Drimed Rabjam Rinpoche arrives
Tonight Rinpoche will be among us. Monks and students already present are at work; the former preparing for the coming major rituals and the latter taking care of the center and our gompa. We all gather together in welcoming our teacher.
The atmosphere is cheerful, warm and relaxed. With students from Germany, Belgium, France, the United States, Russia, Switzerland and monks from Orissa and Nepal, we already sense the international flavor of our Sangha settling;a fragrance which recalls great moments of the past years at Ripa monasteries in Nepal and Orissa. Today the sunshine and good weather accompany us, rendering the best conditions for us to focus on welcoming His Eminence.
As you can see in the little slideshow that accompanies this blog, our welcome is improving year by year. This time, the monks drew great auspicious signs on the ground; the same as those that were designed for the reception of His Holiness, The Dalai Lama at the inauguration of the monastery in Orissa.
Around 8:30pm, the official cars arrive and we all wait in line with our katas. A jogger,unknown to us, passes by totally amazed at discovering such an unexpected scene. Just before he had exchanged a few words with some of us and he received a pamphlet about the center. Suddenly very interested, he remains to witness the arrival of this great Master of whom he has never heard and perhaps he is not really aware of his luck! Some people who were here for the first time at the last Saga Dawa festival, are also present.
The introduction is followed by the traditional ceremony with rice and chai. His Eminence took the opportunity to remind us how much we are attached to our egos, how they represent the obstacles that we have to work on and how the Dharma can help us dissolve our attachments and with them, all the little problems that could become major obstacles if we are not careful. Finally, He reminds us that our practice is in our daily life. Then He went to take a rest, followed by Lhuntrul Rinpoche who has already been here for a few days, the young Anzin Rinpoche, Tulku Karma Shedup who was previously his brother, Semo Sonam who is one of his daughters and two attendant monks who have just arrived with Him.
Rinpoche is in great shape. Everything is moving along smoothly. Our great retreat presents itself auspiciously with an expected large number of participants.
Stay tuned for more news from the retreat and your Ripa center.
Slideshow: Admire the auspicious signs drawn freehand by the monks … Signs that are quickly copied and added to by the children! Giving a last sweep with the broom before the arrival of HE … The Tibetan community in Switzerland is also present, along with Katya, the first arrival of our Russian RIPA Sangha … We are all gathered together for the official welcome, including ritual music. Each person offers katas to His Eminence, Lhuntrul Rinpoche and to the young Anzin Tulku…. How not to be the first when one is very young!