Summer retreat 2018: Hayagriva Drupchö (7 days)
With His Eminence Namkha Drimed Rabjam Rinpoche, Dungsey Gyetrul Jigme Rinpoche and Dungsey Lhuntrul Dechen Gyurmey Rinpoche
August 10 - 18, 2018
Summer retreat 2018 :  28th July – 18th August 
Module 1 : 28th July – 2nd August      Life, death and rebirth: a Buddhist perspective
Based on the traditional Tibetan teachings of the Bardo Thödol with Gyetrul Jigme Rinpoche
Module 2 : 4th – 10th August             Taksham Yeshe Tsogyal Drupchö (5 days)
With His Eminence Namkha Drimed Rabjam Rinpoche, Dungsey Gyetrul Jigme Rinpoche and Dungsey Lhuntrul Rinpoche
Module 3 :  10th – 18th August           Hayagriva Drupchö (7 days)
Led by Dungsey Lhuntrul Dechen Rinpoche, in the presence of His Eminence Namkha Drimed Rabjam Rinpoche and Dungsey Gyetrul Jigme Rinpoche
***
Module 3                   
10th – 18th August           Hayagriva Drupchö (7 days)
Led by Dungsey Lhuntrul Dechen Rinpoche, in the presence of His Eminence Namkha Drimed Rabjam Rinpoche and Dungsey Gyetrul Jigme Rinpoche
Hayagriva is the main Yidam of the Ripa lineage. A wrathful manifestation of Chenrezig, it belongs to the Padma family and it is recognized for its powerful magnetizing activity. Participating in a Hayagriva Drupchö helps dispel obstacles and heal Naga-provoked sicknesses, such as skin ailments.
Guru Padmasambava received this teaching from the great Indian Mahasiddha Nagarjuna and transmitted it to the King Trisong Deutsen of Tibet in the 8th century, as well as to his twenty-five disciples. At that time, the teaching was concealed in a rock located in Gawalung, in Pemakö as a Terma teaching. The mind of Arya Tsale, one of Guru Rinpoche's main disciples, was blessed as the main recipient of this Terma teaching.
Taksham Nüden Dorje, a reincarnation of Arya Tsale, discovered the Terma in 1688, and accomplished its essence through intensive practice. Choje Lingpa and Thutop Lingpa, Tertöns themselves, received the practice from Taksham Nüden Dorje; the practice has been transmitted in an uninterrupted manner until the present day, through His Eminence Namkha Drimed Rabjam Rinpoche.
Arrival of participants on August 10th at 4 pm
Programme ends on Saturday, 18th August at 6 pm
Requirements: be a member of the Ripa Sangha
DOWNLOAD THE REGISTRATION FORM:
More info: info@ripa-international.com
About the Teachers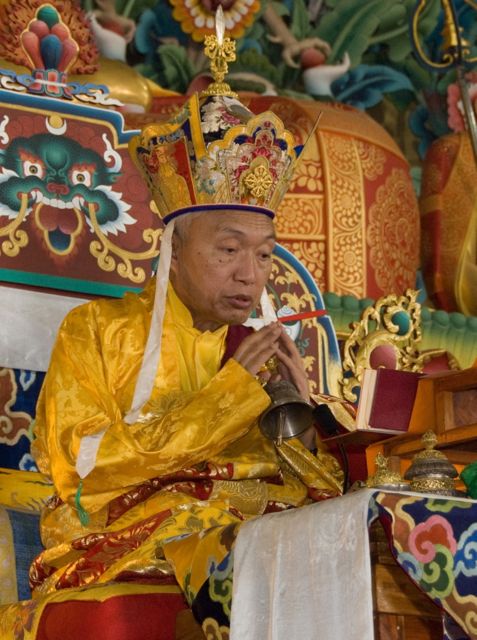 His Eminence Namkha Drimed Rabjam Rinpoche is the supreme head of the Ripa lineage of Nyingma Vajrayana Buddhism and a living Terton. The Ripa Lineage has its historical roots in the supreme head, Glorious Master Ripa Pema Deje Rolpa, the leader … More →
Dungsey Gyetrul Jigme Rinpoche was born in India in 1970, the tenth day of the sixth month of the year of the Earth Monkey, on the anniversary of Guru Rinpoche's birth. He is the son and spiritual heir of His … More →
Lhuntrul Dechen Gyurmey Rinpoche was born, in keeping with Guru Rinpoche's prophecy, in 1976 as the son of His Eminence Namkha Drimed Rabjam Rinpoche and Khandro Chime Drolkar. He was recognized as the reincarnation of Jigme Tempay Gyeltsen, the 3rd … More →
Category: Ripa International Summer Retreat 2018