Summer Retreat: Femininity in Spirituality
With His Eminence Namkha Drimed Rabjam Rinpoche and Dungsey Lhuntrul Dechen Gyurmey Rinpoche
July 21 - August 6, 2017
RIC / Ripa International Center / Switzerland
Conference I Teachings I Empowerment I Drupchö
2017 is the year of universal feminine energy, depicted in Tibetan Buddhism by the figure of the Dakini. The Ripa International Center, which is particularly inspired by the warmth and wisdom of the Dakini Yéshé Tsogyal, will mark this exceptional year with a series of events devoted to the study and experience of the Dakini, or the universal feminine energy, and the role it plays in spiritual awakening.
Fri 21

– Sun 23 July
: Public talk and dialogue on the role of the universal feminine energy in spirituality with
Michaela Haas,
author of the book « The Dakini Power »,followed by a workshop on how to harmonize our feminine and masculine energies, led by
Lene Handberg
, Semrig Thablam Rabjam, Unity in Duality psychotherapist and Director of U.D. Educational Programmes at the International Tarab Institute.
Mon 24 – Fri 28 July: : "Padmasambhava's heart advice to Yeshe Tsogyal"  and "Yeshe Tsogyal's heart advice to her students"
Teachings with with His Eminence Namkha Drimed Rabjam Rinpoche and Dungsey Lhuntrul Dechen Gyurmey Rinpoche

Sat 29 July : Elaborated empowerment of Taksham Yeshe Tsogyal, with Dungsey Lhuntrul Rinpoche
If you wish to attend the empowerment only => info@ripa-international.com

Sat 29 July – Sun 6 August : Drupchö of Taksham Yeshe Tsogyal
– Prerequisite for Empowerment and Drupchö: refuge in the three Juwels –
About the Teachers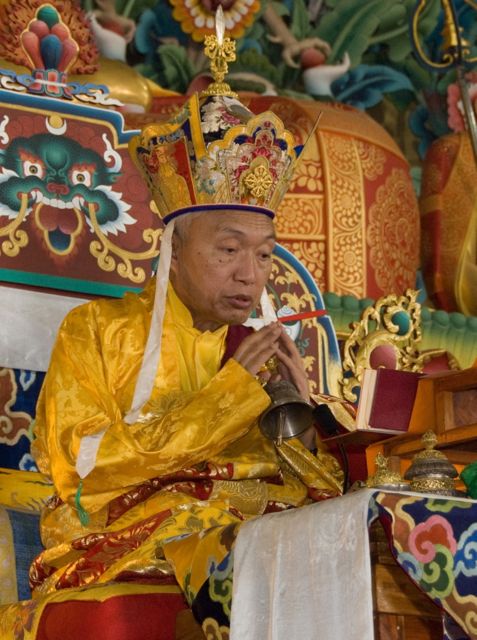 His Eminence Namkha Drimed Rabjam Rinpoche is the supreme head of the Ripa lineage of Nyingma Vajrayana Buddhism and a living Terton. The Ripa Lineage has its historical roots in the supreme head, Glorious Master Ripa Pema Deje Rolpa, the leader … More →
Lhuntrul Dechen Gyurmey Rinpoche was born, in keeping with Guru Rinpoche's prophecy, in 1976 as the son of His Eminence Namkha Drimed Rabjam Rinpoche and Khandro Chime Drolkar. He was recognized as the reincarnation of Jigme Tempay Gyeltsen, the 3rd … More →
Categories: Ripa International Center Regular Programs, Ripa International Summer Retreat 2017