Inauguration of Moscow Ripa Center
Inauguration of Monastery Urgen Sangak Choiling, Kalmykia
Teaching in Russia, Moscow
Dear Sangha,
Here we would like to share with you the main Ripa activities and news, which took place in Russia in May andJune, 2015 in a short way.
All the festive events in Moscow and Kalmykia are finished. As Jigme Rinpoche told during farewell tea with team: "Finally many of you will be able to sleep enough". We were laughing. In general we were glad a lot during this visit of our Teachers and felt ourselves like real heros. Only five years ago, when Rinpoche shared with us his thought to create the Ripa Center in Moscow, this idea appeared to us as very crazy. Especially if you know the price of a square meter in Russian capital, say nothing of a detached house.
But through the blessing of Teachers, the power of our intention, and generous sponsors who helped, this idea come true!
On 30-31st of May, 2015 there was the official inauguration and blessing of Moscow Ripa Center by three precious Teachers – His Eminence Kyabje Terton Namkha Drimed Rabjam Rinpoche, Dungsey Gyetrul Jigme Rinpoche, Dungsey Lhuntrul Dechen Gyurme Rinpoche.
Our House, which is near the center of Moscow, was replanned and overhauled completely. It turns out very light and filled by love and blessing of Masters.

Our three Teachers were accommodated in 3 different big and cozy apartments. Every apartment was serviced by a separate Lamaseva team, every person of Lamaseva was trying to be unnoticeable, in order to help our Teachers to have a rest during this rich program.
The day before the inauguration of Moscow Ripa Center Jigme Rinpoche gave a public talk "What is the nature of mind?" The Lecture was free for all attendees, and the hall of 500 places was full.
There is a link to this free talk here: www.youtube.com/watch?t=924&v=pHsuE2LHlfY
In the morning of 30th of May our valiant drivers-volunteers drove all the precious Teachers with monks to the new Center. Here they were met with bread and salt in accordance with the ancient Russian tradition. Live stream was organized for all, who couldn't join us this day, so all of them were with us anyway.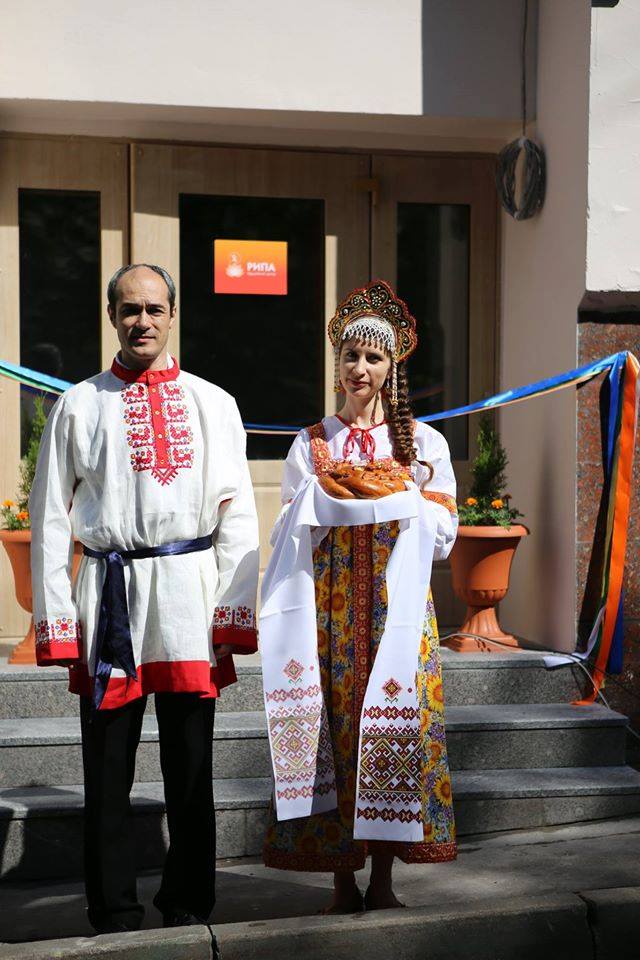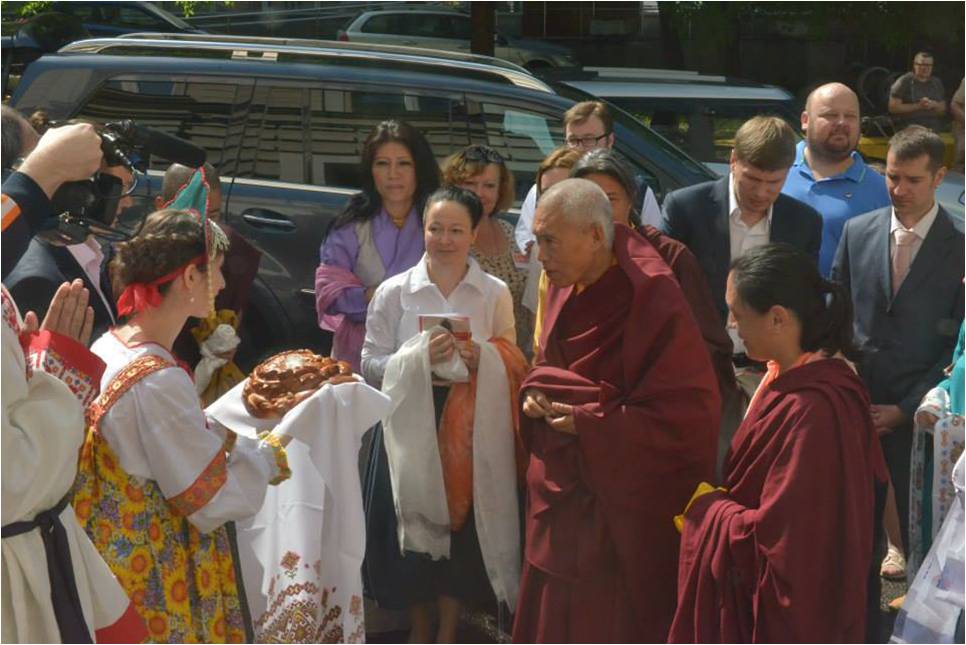 Blessing of the three-floored building, where there are three big halls, a Gompa, decorated by professional painters, and a lot of rooms and back rooms, were held in a spiritual festive atmosphere.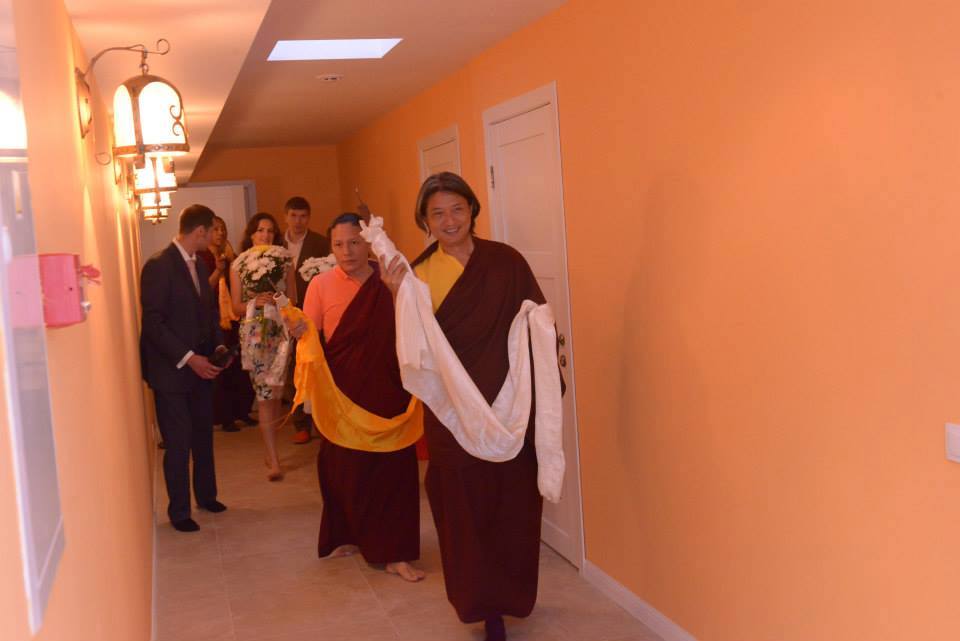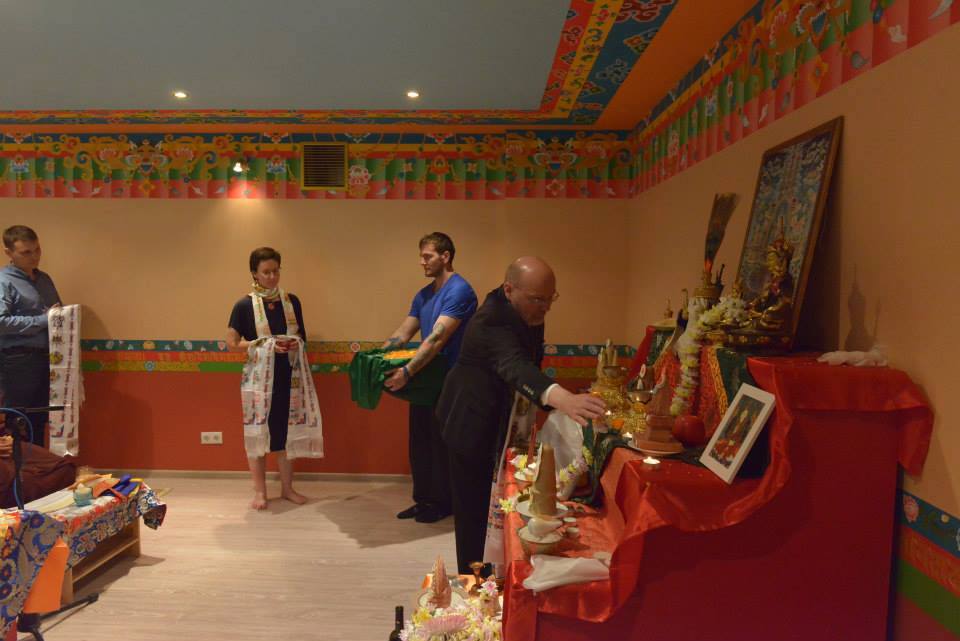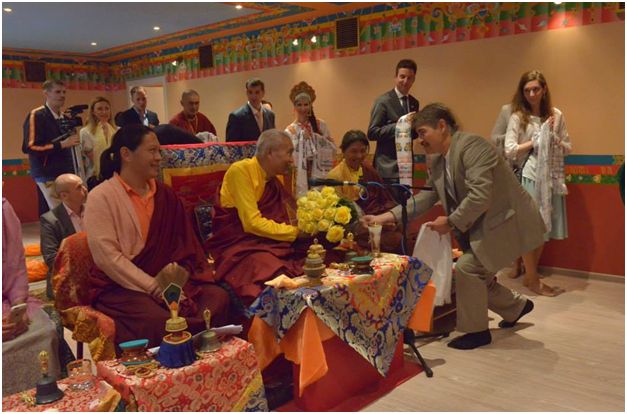 In the evening part, there was an auction with precious items, and a gala concert, where we found a lot of new and unexpected talents among our Sangha.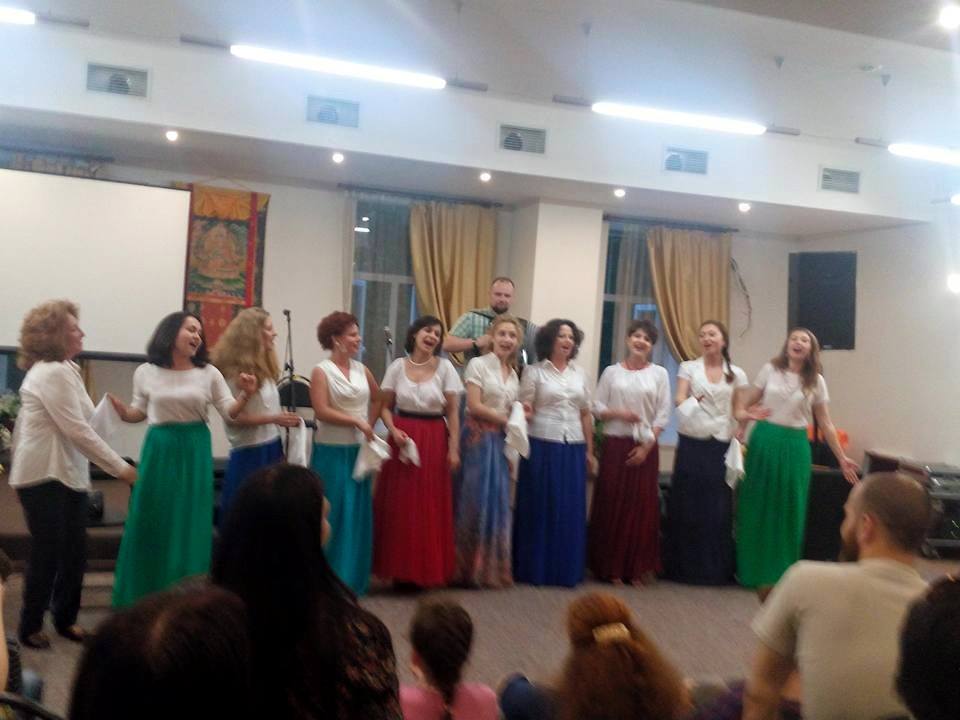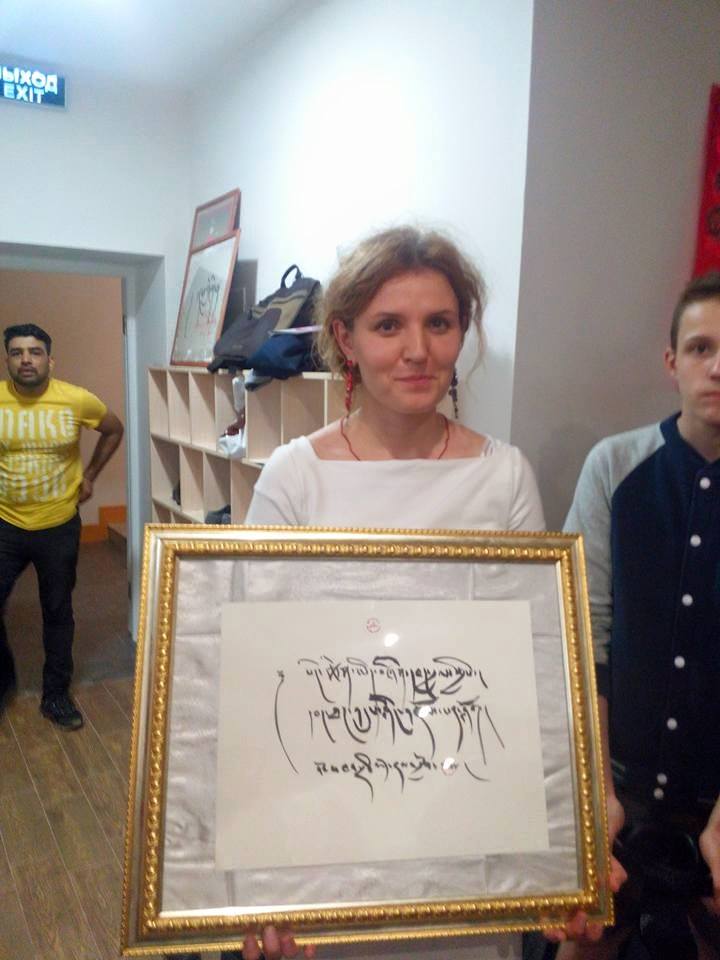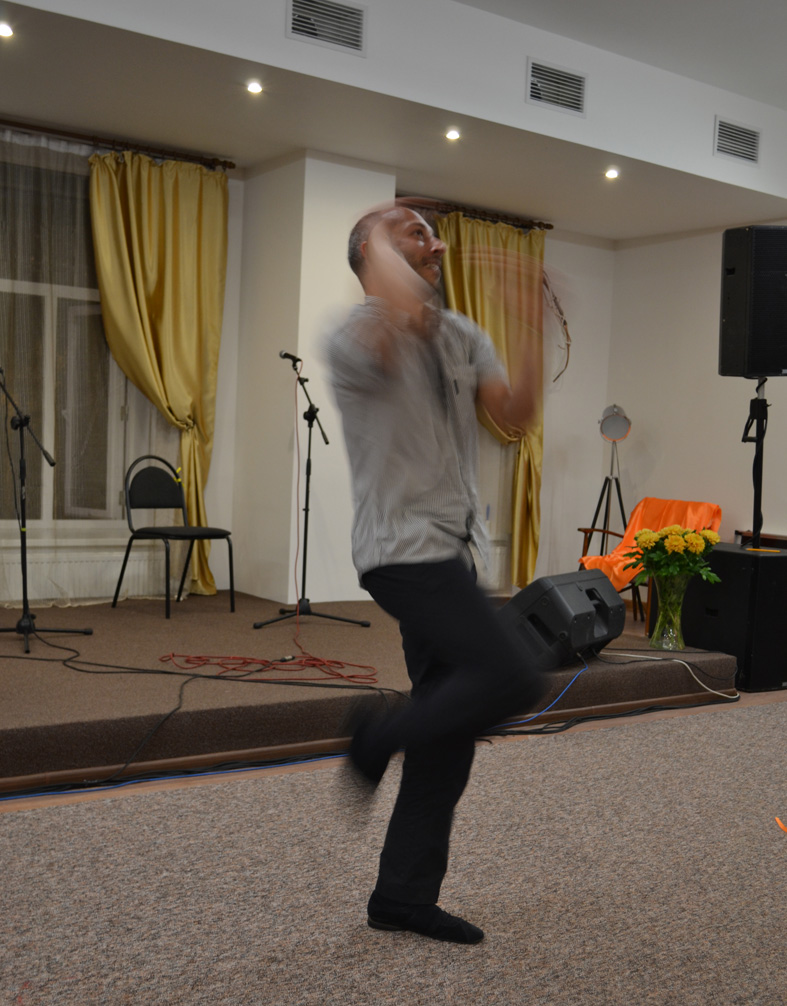 Some of the performances were really excited! The high spot of the party was Uriy Eremin with his breathtaking, unexpected, very active dance – down break. It was worth it to see! The energy of Uriy captured all of the guests and at the end of the sound track of his dance we found ourselves in dancing with Uriy all together! It was real pure energy and pleasure!
As we noticed, our Teachers got a pleasure to see it too.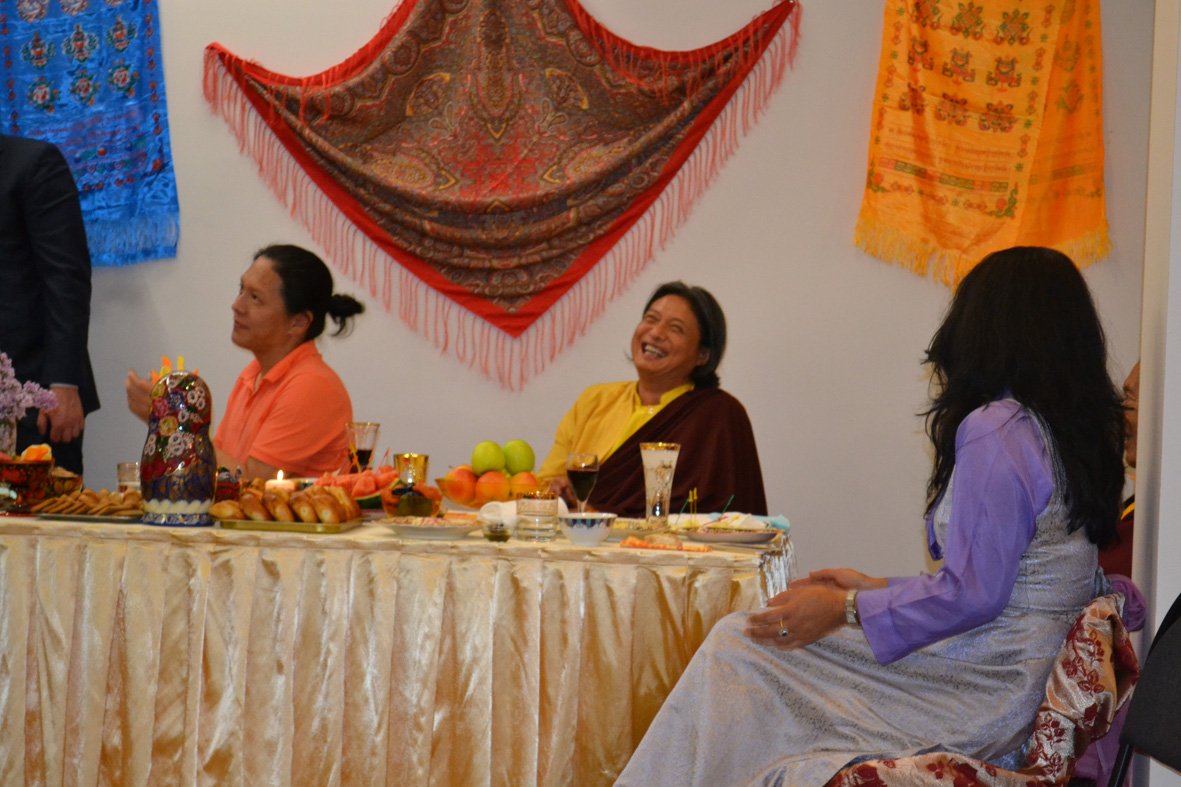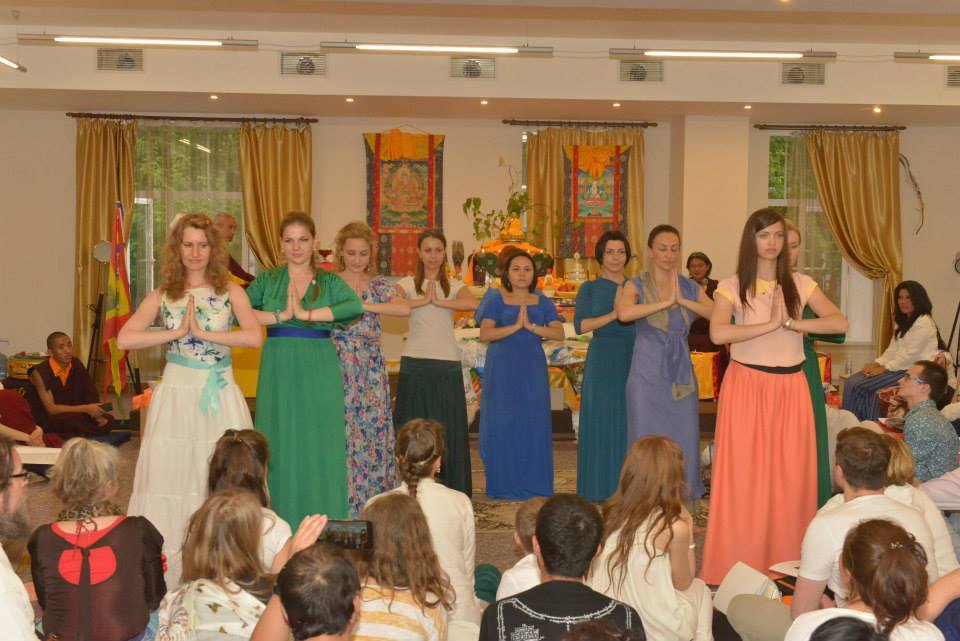 On the next morning, the 31st of May, we organized a Doors Open Day. Anybody who wished to, could visit yoga classes, yoga-nidra with resonance bowls, yogatherapy, a breathing class, and a class of painting on the water (Ebru).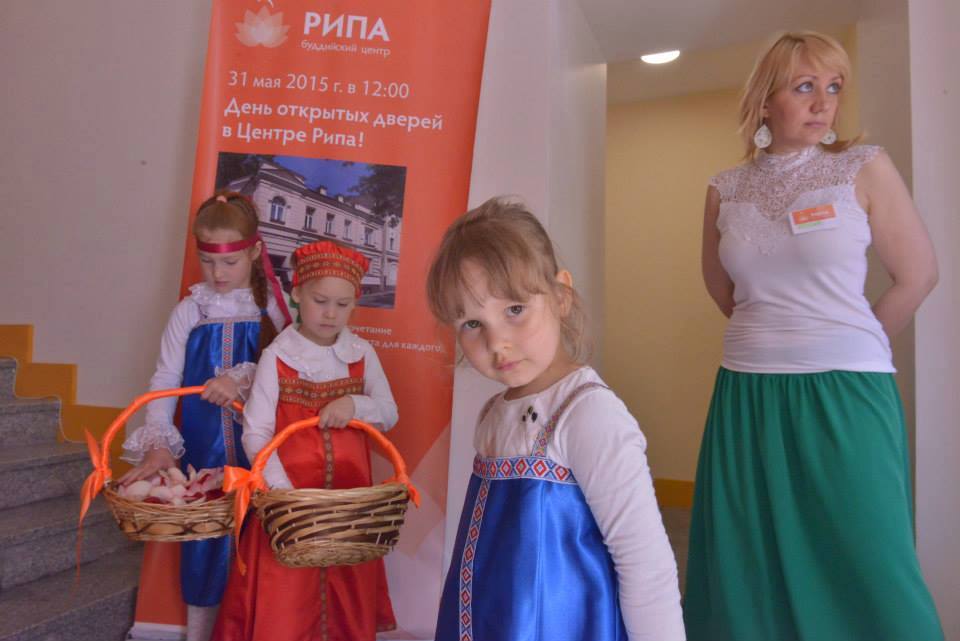 Doors Open day was really crowded and we were happy – so many people visited us this day. There were 85 people placed in a 55 meters Gompa, they were sitting shoulder to shoulder, in order to listen to the instructions of Jigme Rinpoche, and then tried to practice Shine under his guidance.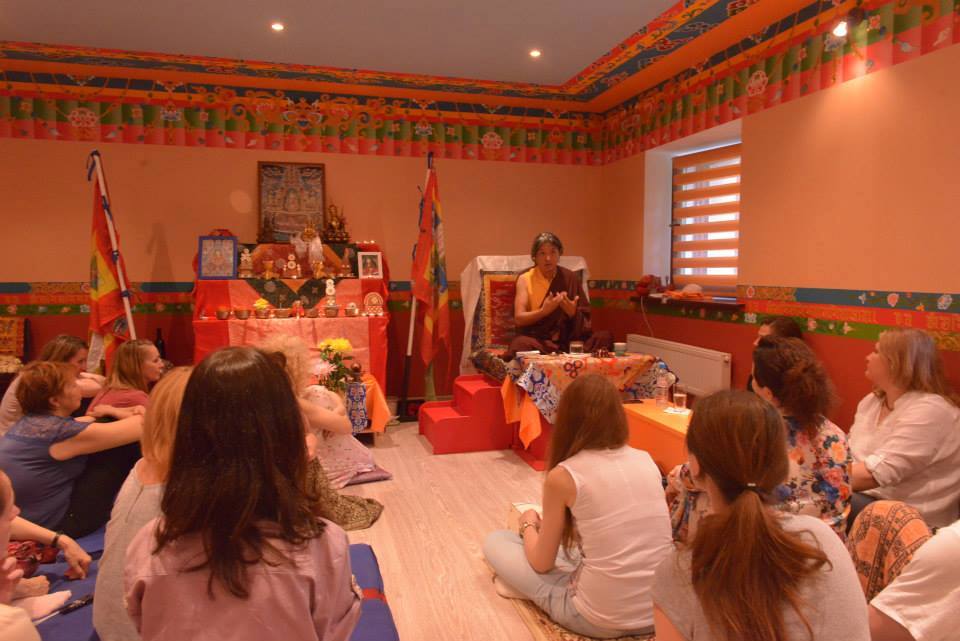 On this day it was possible to take Refuge and to have a blessing of children with His Eminence too.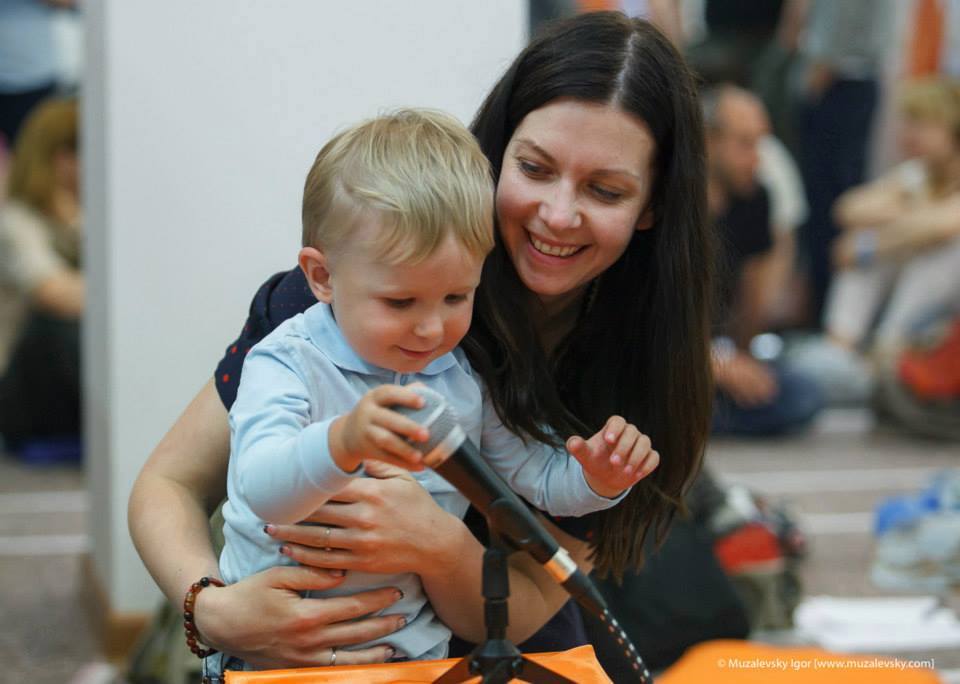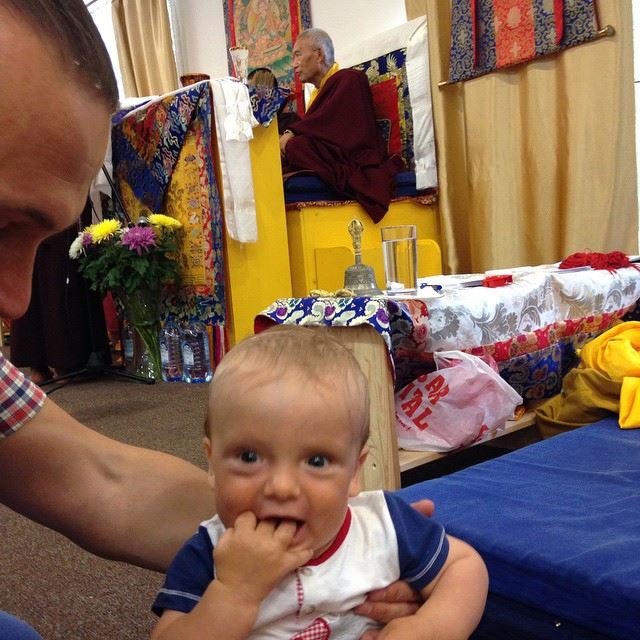 This time there were a lot of parents with very small children. One woman joked: "In your Sangha, all get married very soon and give birth children, so this is a reason to get refuge from Namkha Drimed Rabjam Rinpoche, maybe I will have luck too".
After opening the Center and the Saga Dawa celebration all the Teachers were going to Kalmykia for the inauguration of the newest monastery of the Ripa lineage – Urgen Sangak Choiling (the dwelling place of secret mantra).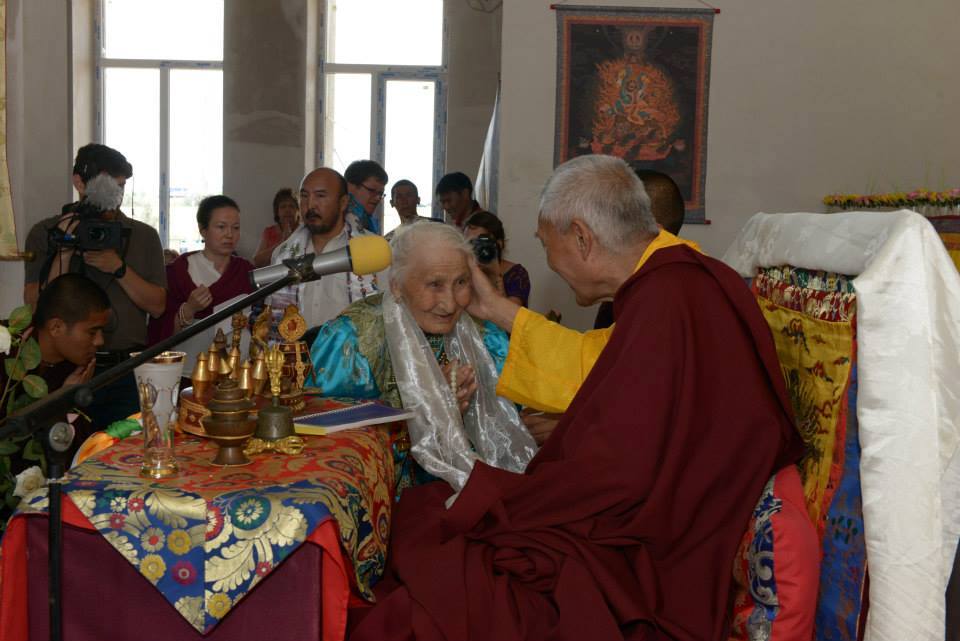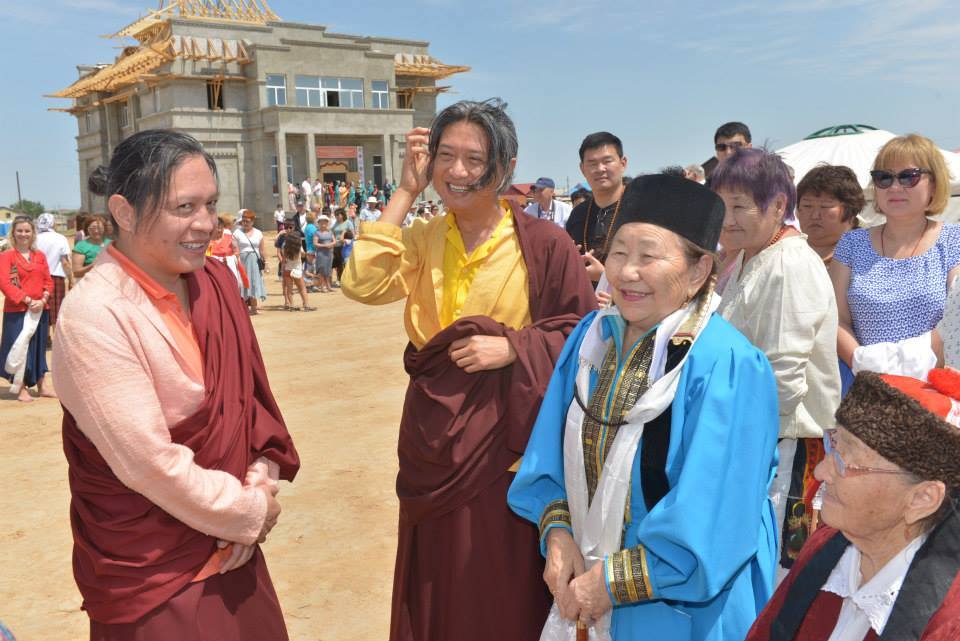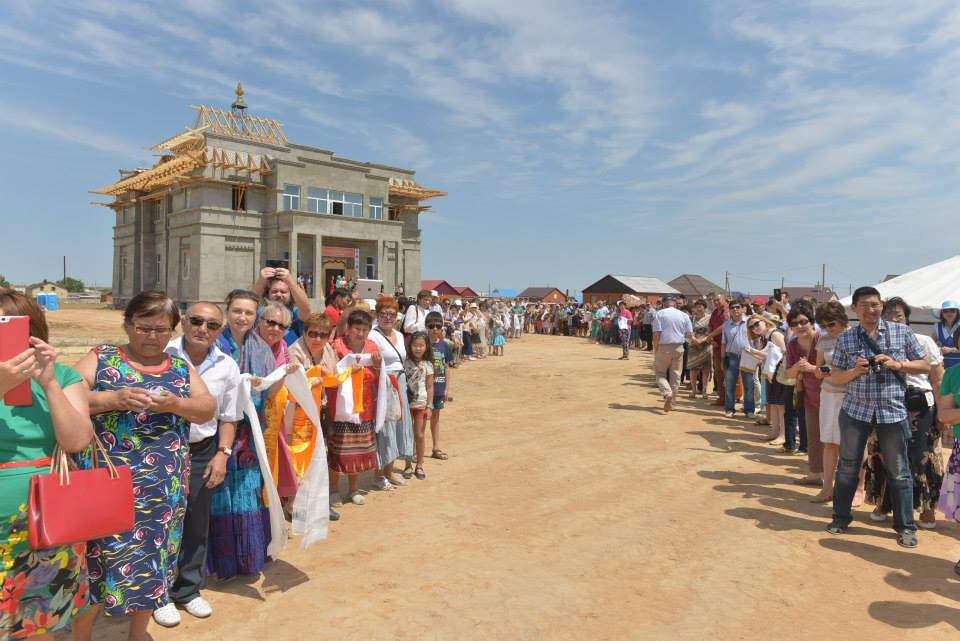 It was a very big event, with a lot of people. Local citizens were very happy that their ancient culture revives now. Historically Kalmykia was a Buddhist region. During Soviet times all religions were surpressed, however now they revive again. The temple is located in Troickoye village, which is 11 km from Elista – the capital of the region.
This celebration was held in a touching, warm atmosphere, where people were crying with happiness. There is still a lot of work needed to finish the Temple, but now with such a great blessing which was bestowed by our Teachers, we are sure, it will be finished soon.
Dungsey Lhuntrul Dechen Gyurme Rinpoche was exalted to the throne. It was a really festive and unusual ceremony. After the ceremony we noticed miraculous signs in heavens: there was a rainbow around the sun!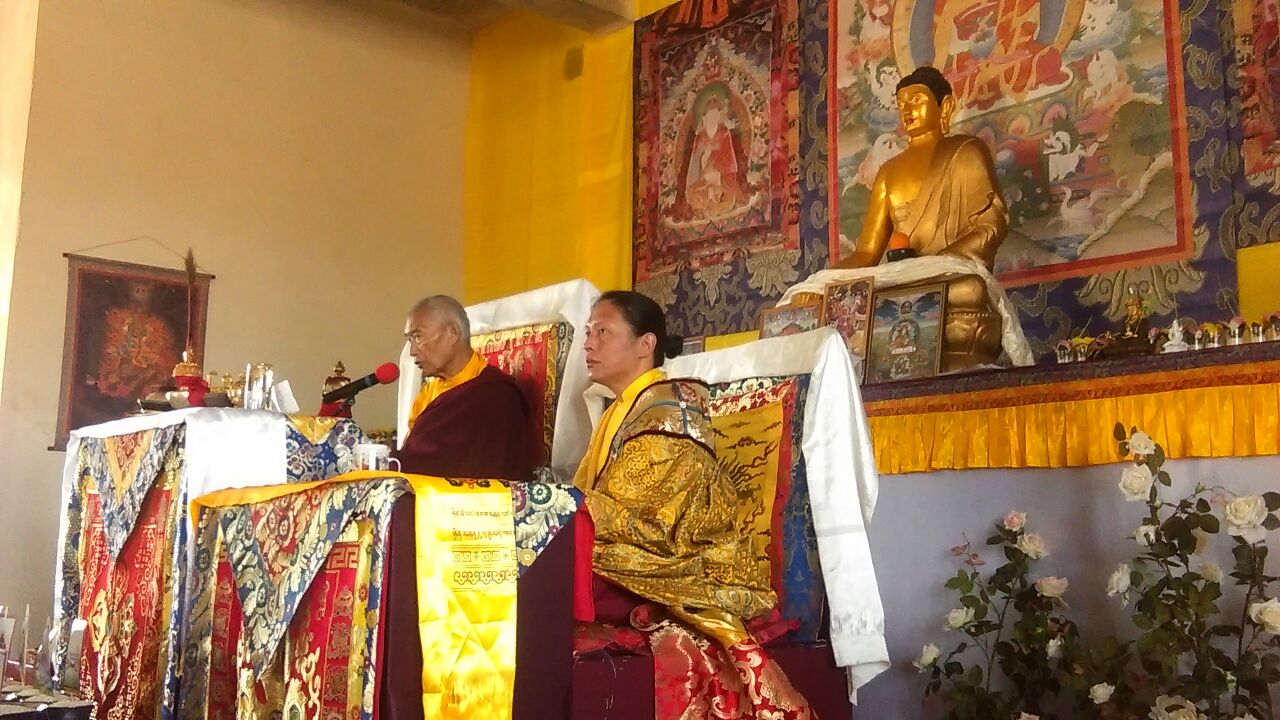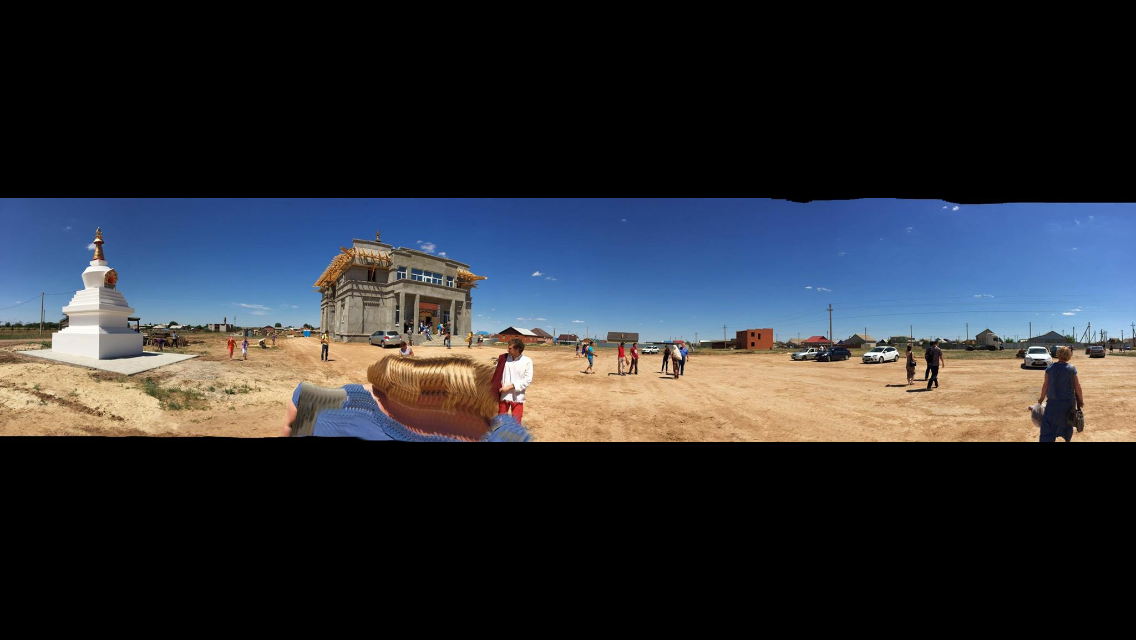 On the 12th of June Jigme Rinpoche came back to Moscow and the Teaching started.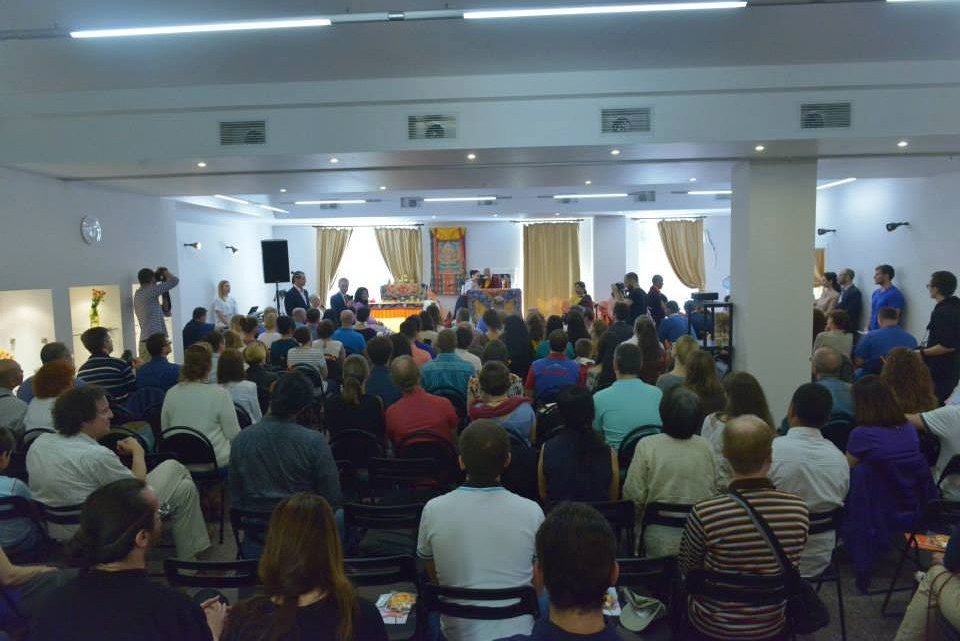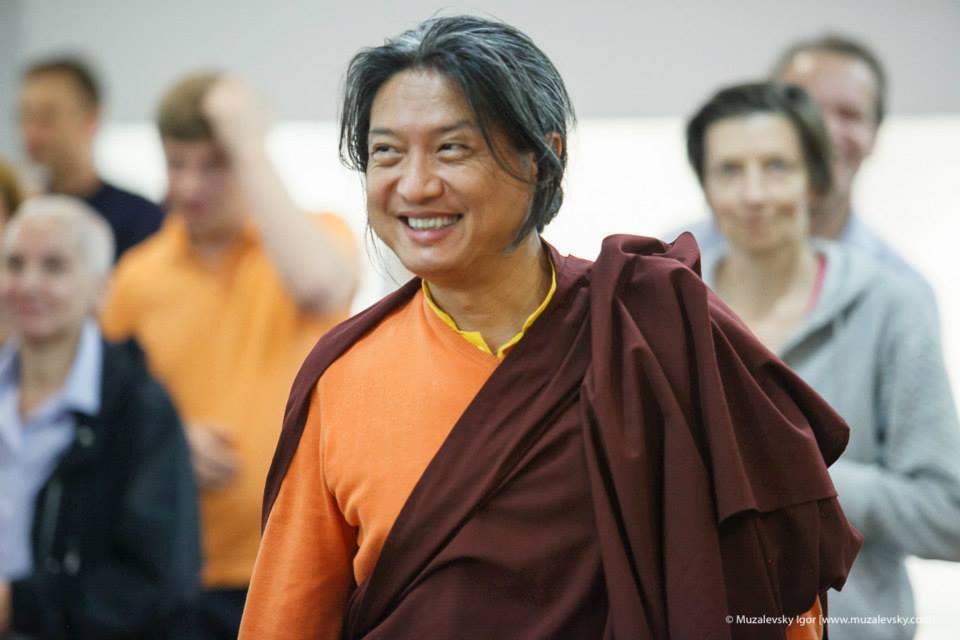 After the solitary retreat of Jigme Rinpoche, we found he changed not only outwardly, but that his speech became brighter, clearer and deeper. We were catching his every word and recorded his Teaching in our notebooks, dictaphones, and video. We suppose, we began to understand him better.
Here there are some of the quotes:
"Fear to lose the own importance gives birth to all forms of aggression."
"If there is a clarity, there is no fear."
"After "Hello" is always "Bye." A lot of people have disbalance here" (about death).
"Motivation is the most important in the practice: why do we do it? Practice without right motivation has no sense. We make practice for all sentient beings, not for ourselves."
"The more practices, the less ego."
"In the present time there is passionate and tempting aggression, and this type is a more dangerous source of distraction. Now in the world there is such high level of aggression, but it is presented so beautiful! Even in the form of toothpaste. Now we have 40 and 50 kinds of toothpaste, they have different packing, different colors, all of them are so beautifully presented, but in fact all of them are the same. We are always under the pressure of it. And our level of anxiety rises always exactly due to the this passionate and tempting aggression."
"People, who live in cities are always tired, exhausted, they are full of worry and fear. Why do we feel ourselves so tired and exhausted? Mostly it is because of psychological reasons. Usually the reason of this tiredness is not connected with hard work, tiredness from heavy work is very different. Tempting aggression. It forces you to feel that you will get something. And this is a secret that you think you will get something and in the same time you feel pain. In such situations it is very difficult to unite with our own center and to find our own common wisdom."
"To wait from other they to be the same as we today – more calm and soft – this is the quickest way to lose this softness! The world will stay the same, illusive phenomenon will not disappear. In the same time their real nature will stay too".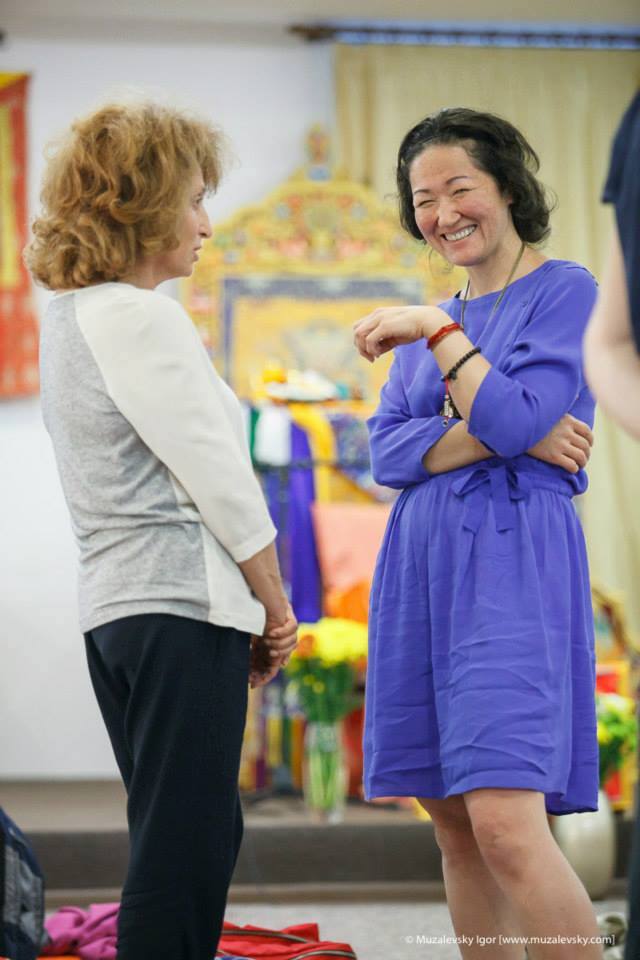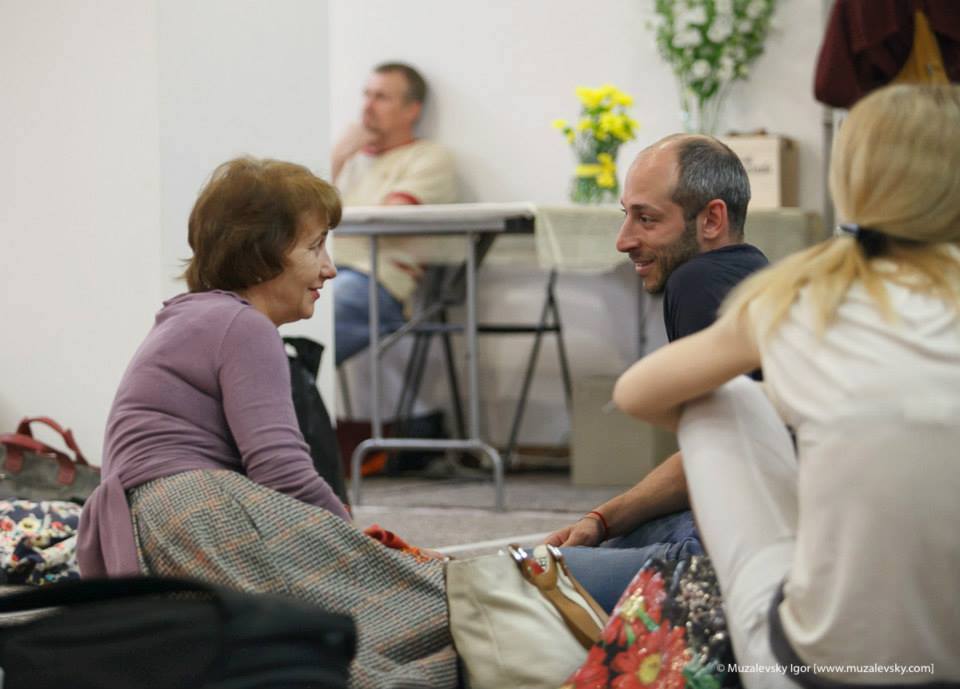 A new book of Jigme Rinpoche «Entering the path of sacredness. Healing the world we live in," which was translated into Russian and published, became a great present for us! Thank you to Tatyana Kashirina for this great job!
Presentation of the book with autograph signing session took place in the Moscow Ripa Center.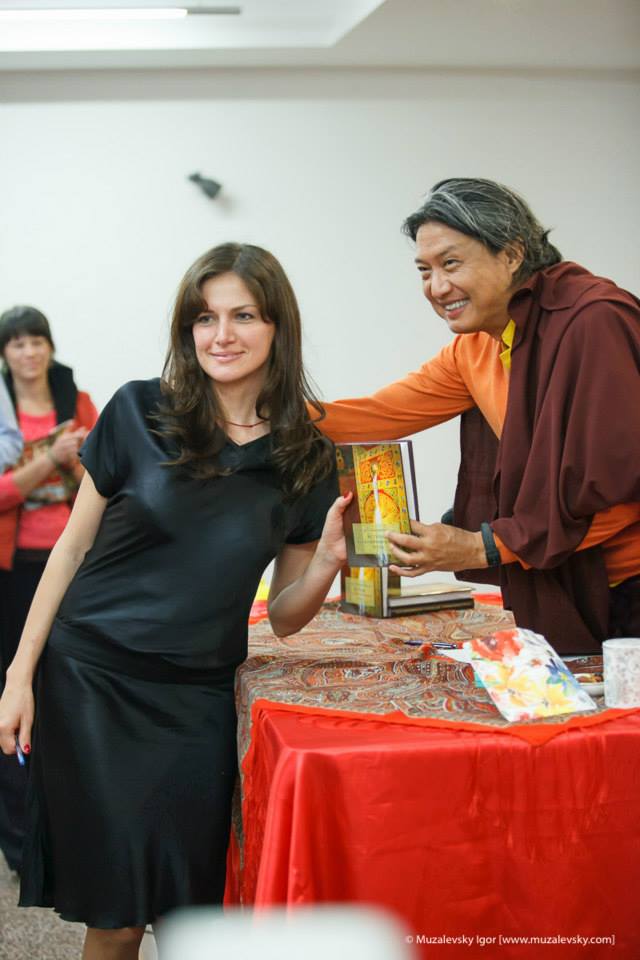 And of course the Gesar Fire Puja attracted a lot of participants, who are interested in prosperity and improving the quality of life. A big tent was set up in the "Flaсon" area for a few hours. Uriy Eremin and his team are magicians!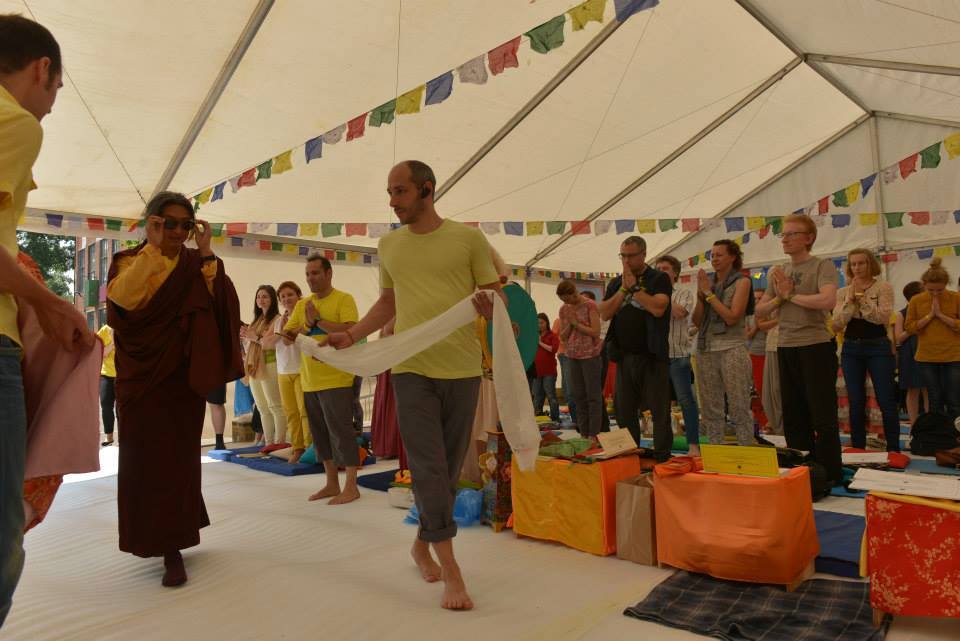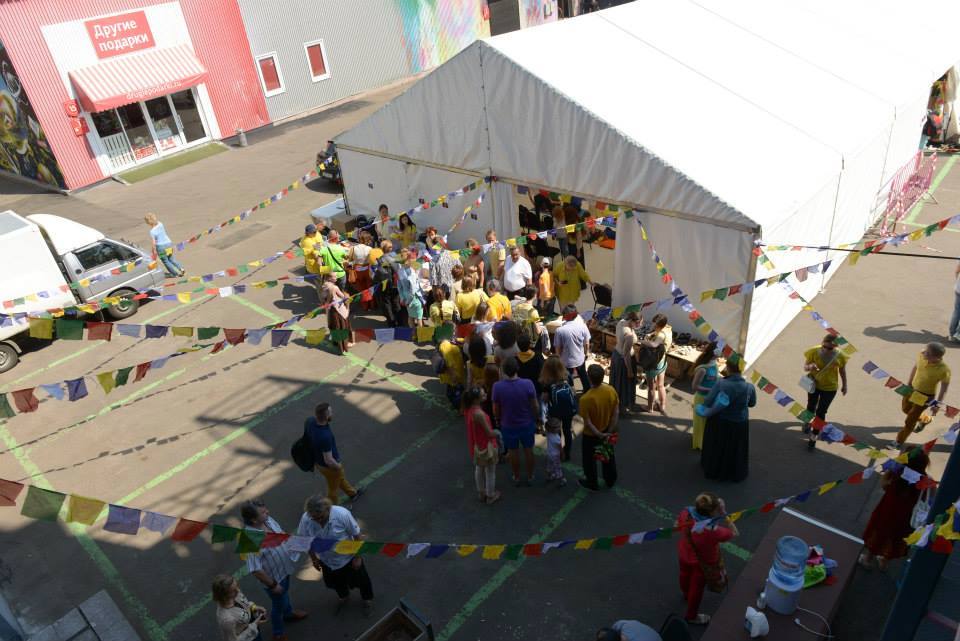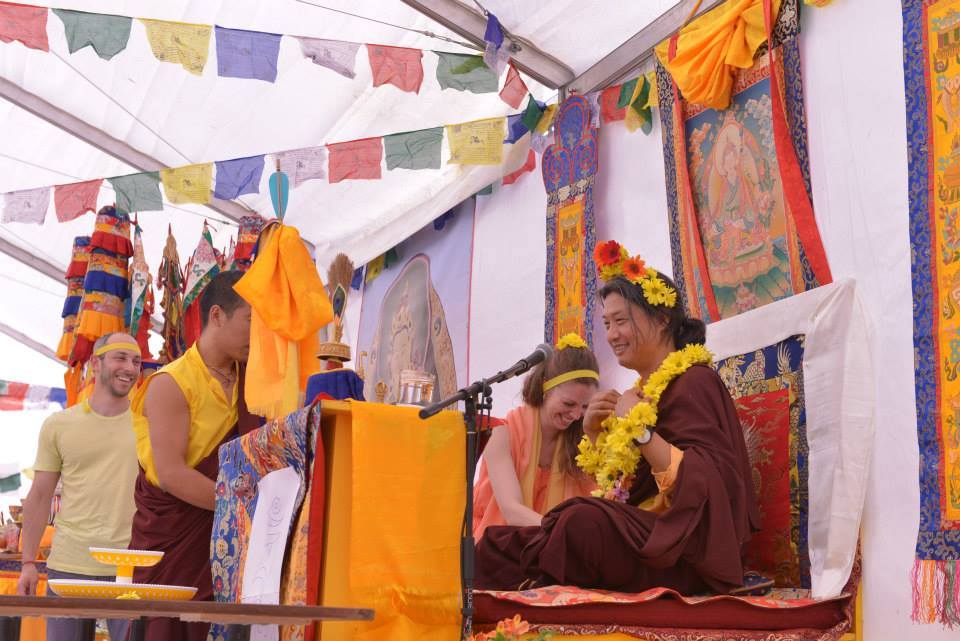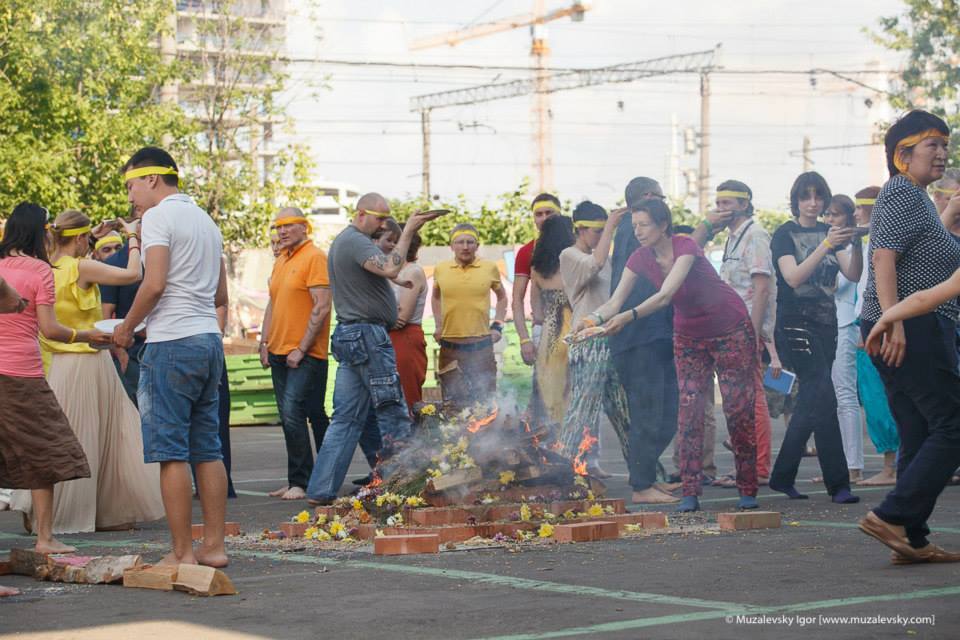 And as a finish of this saturated 3-weeks program with all of us, who were involved in the organization of all these events, came a farewell tea with Jigme Rinpoche. The first which we wanted to do of course was to thank our Teachers for this unique possibility to get Teachings in our own Home in the heart of the restless and huge capital of Russia. Jigme Rinpoche thanked everyone, and we hugged and thanked each other for everyone brought into this process. And now we understood that initial intention which seemed so unreal for us at the beginning came true now. And this is a real blessing and power of our Masters, great fortune, and the big work of a coordinated team!
And now it is time of new achivements. To make our Ripa Center as a place of Energy, where people from all over huge Russia could come and find support, answers to their questions and internal peace. Let everyone could find the way to open his heart, to calm his mind and it will bring more happiness to his life!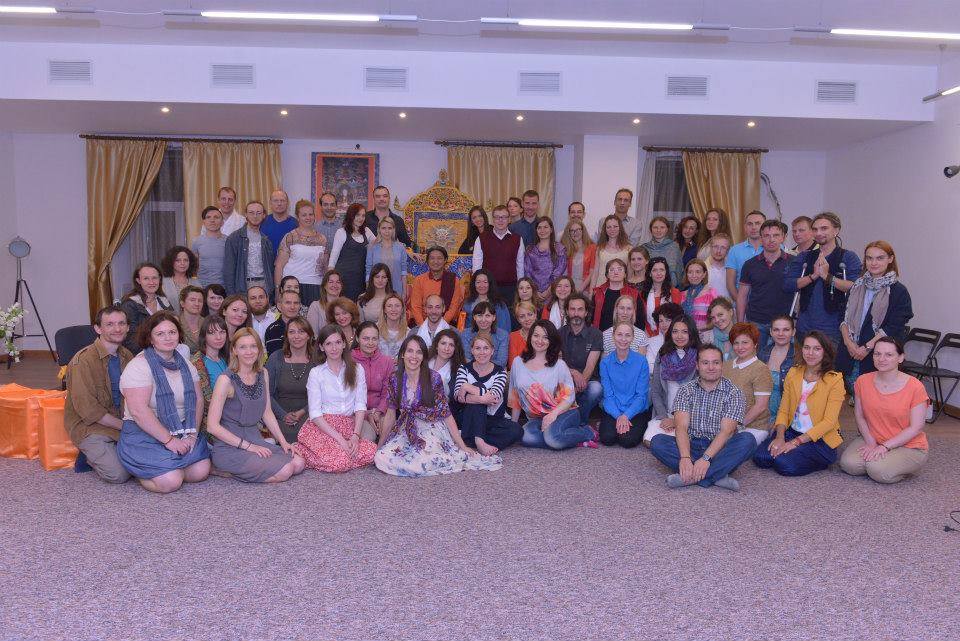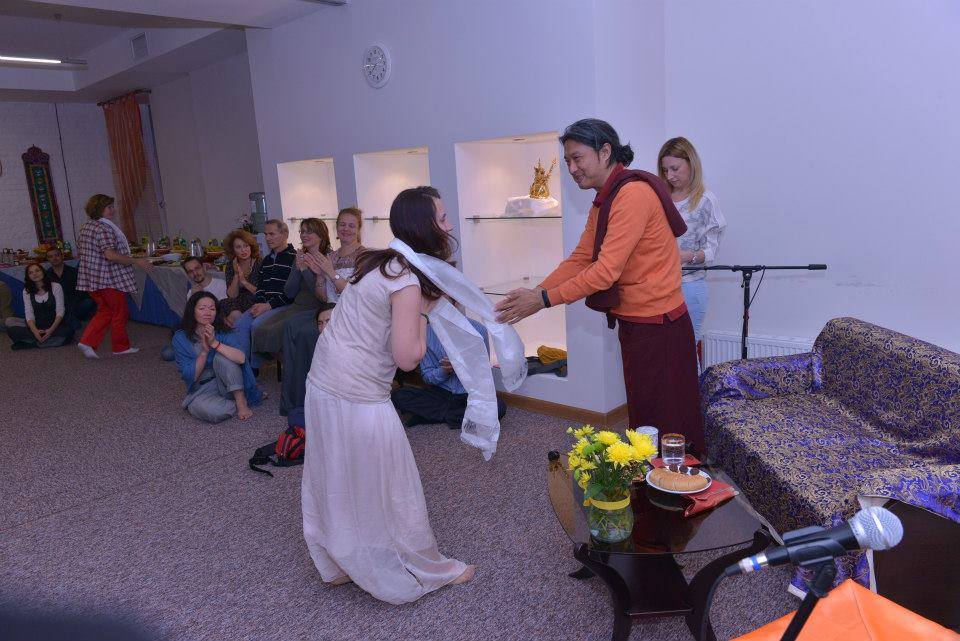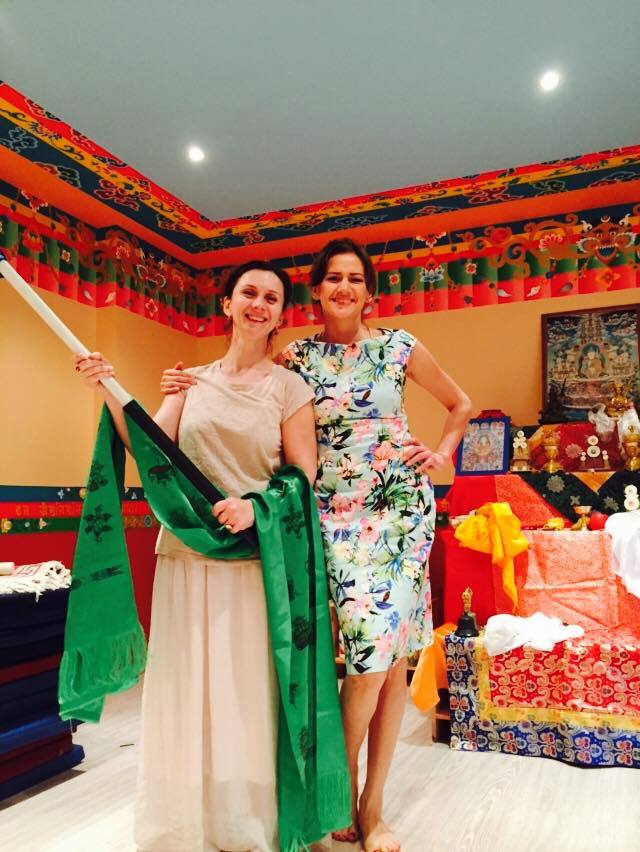 We are always happy to see all of our international Sangha in Moscow Ripa Center! You are welcome!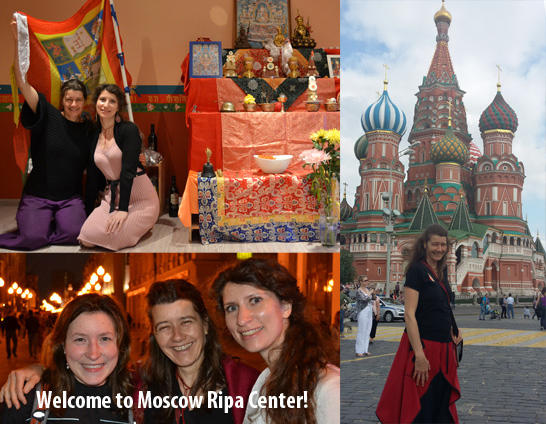 Text was prepared by Milana Bogdanova
Additions by Nataliya Korolkova
Moscow Ripa Center – 2015