23jul(jul 23)15 h 00 min11ago(ago 11)10 h 00 minRetiro anual de verano de Ripa International & ¡10º Aniversario de la Inauguración de RIC!(julio 23) 15 h 00 min - (agosto 11) 10 h 00 min(GMT+2:00) View in my timeTipo de evento:RIC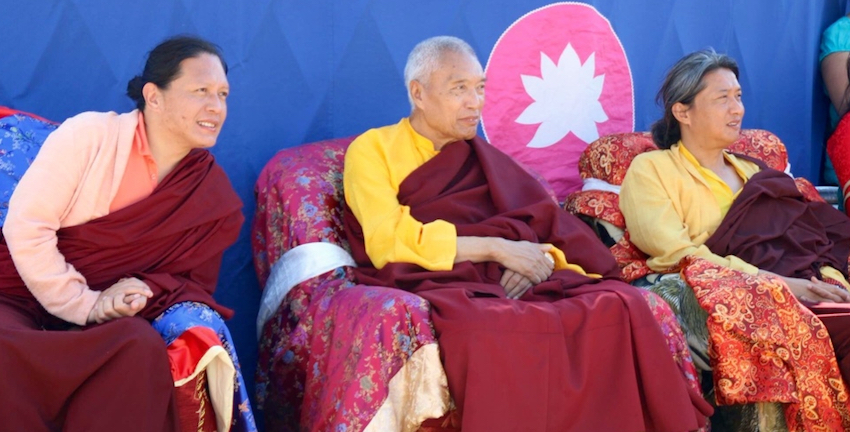 Detalles del evento

En 2022 celebramos el 10º Aniversario del RIC. Está previsto que los Tres Maestros del Linaje Ripa, S.E. Namkha Drimed Rimpoché, Gyetrul Jigme Rimpoché y Lhuntrul Rimpoché, estén con nosotros -si lo permite el Covid- para un programa completo de enseñanzas, drupchös y festividades. ¡A continuación se detallan las fechas que puedes reservar en tu calendario a partir de ahora!

Sábado 23 – Jueves 28 de julio (finalización después de la comida): Enseñanza pública abierta con Gyetrul Jigme Rinpoche Alimentar una mente despierta y compasiva (Basado en la obra de Shantideva Guía de la forma de vida del Boddhisattva)

Del viernes 29 al domingo 31 de julio: 10º aniversario del Centro Internacional de Ripa: Celebraciones dhármicas y culturales

Del domingo 31 de julio al viernes 5 de agosto: Yeshe Tsogyal Drupcho (finalización después del almuerzo)

Sábado 6 –  11 de agosto: Drupcho Enriquecedor de Gesar (fin después de la comida)

La primera fecha es siempre la de llegada, alrededor de las 16:00 horas. El programa correspondiente comienza al día siguiente por la mañana.

¡Si quieres participar en la organización de las celebraciones del 10º aniversario, ponte en contacto con nosotros en: info@ripa-international.com!
Hora

Julio 23 (Sábado) 15 h 00 min - Agosto 11 (Jueves) 10 h 00 min(GMT+2:00) View in my time
Ponentes para este evento
Dungsey Gyetrul Jigme Rinpoche

Dungsey Lhuntrul Dechen Gyurmey Rinpoche

Dungsey Lhuntrul Dechen Gyurmey Rinpoche

Lhuntrul Dechen Gyurmey Rinpoche was born, in keeping with Guru Rinpoche's prophecy, in 1976 as the son of His Eminence Namkha Drimed Rabjam Rinpoche and Khandro Chime Drolkar. He was recognized as the reincarnation of Jigme Tempay Gyeltsen, the 3rd Tamdrin Lhunpo Chogtrul. In conjunction with his recognition, he was enthroned at Namdroling monastery in Mysore amidst an ocean of lamas, tulkus, and monks presided over by Kyabje Drupwang Penor Rimpoche, who bestowed upon him the name Gyurme Thegchog Shedrub Tenpay Gyeltsen.