23jul(jul 23)15 h 00 min11aug(aug 11)10 h 00 minInternationales Ripa Sommer Retreat & Feiern zum 10-jährigen Jubiläum des RIC!(juli 23) 15 h 00 min - (august 11) 10 h 00 min(GMT+2:00) View in my timeEreignistyp:RIC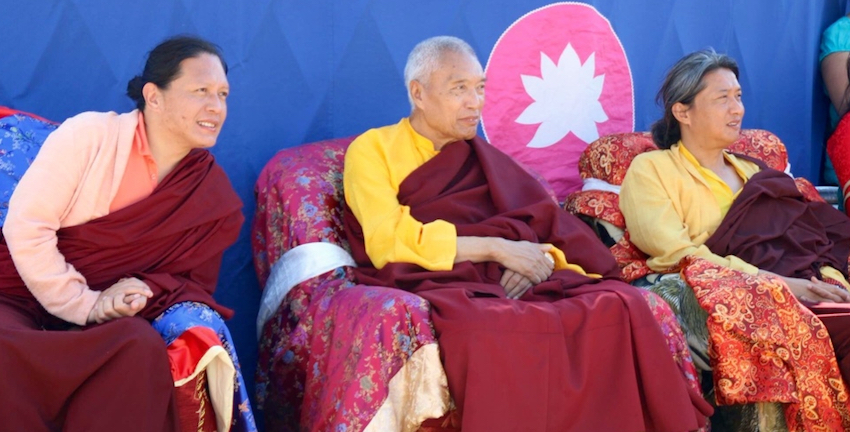 Veranstaltungsdetails

In diesem Jahr feiern wir das 10-jährige Bestehen des RIC. Es ist geplant, dass die drei Lehrer der Ripa-Linie, S.E. Namkha Drimed Rinpoche, Gyetrul Jigme Rinpoche und Lhuntrul Rinpoche, die Feierlichkeiten leiten – wenn es Covid erlaubt -, für ein reiches Programm von Belehrungen, Drupchös und Festlichkeiten.Hier schon einmal die Termine, die Sie sich schon jetzt in Ihrem Kalender vormerken können!!!

Samstag 23. bis Donnerstag 28. Juli (Ende nach dem Mittagessen): Belehrungen offen für Alle mit Gyetrul Jigme Rinpoche Einen erwachten und mitfühlenden Geist nähren (basierend auf Shantidevas A Guide to the Boddhisattva's Way of Life)

Freitag 29. bis Sonntag 31. Juli: 10-jähriges Jubiläum des Ripa International Center: Dharma- und kutlurelle Feierlichkeiten

Sonntag 31. Juli – Freitag 5. August: Yeshe Tsogyal Drupchö (Ende nach dem Mittagessen)

Samstag 6. –  11. August: Gesar der Anreicherung Drupchö (Ende nach dem Mittagessen)

Beginn jedes Retreatblocks ist immer der Anreisetag, etwa um 16 Uhr. Das entsprechende Programm beginnt am Morgen des nächsten Tages.

WICHTIG:
Das Organisationsteam für die 10-Jahres-Feier ist am Werden und freut sich auf Inspirationen, Ideen und helfende Hände : Wenn Du mitmachen willst, melde Dich bitte bei: info@ripa-international.com!
Zeit

Juli 23 (Samstag) 15 h 00 min - August 11 (Donnerstag) 10 h 00 min(GMT+2:00) View in my time
Referenten für diese Veranstaltung
Dungsey Gyetrul Jigme Rinpoche

Dungsey Lhuntrul Dechen Gyurmey Rinpoche

Dungsey Lhuntrul Dechen Gyurmey Rinpoche

Lhuntrul Dechen Gyurmey Rinpoche was born, in keeping with Guru Rinpoche's prophecy, in 1976 as the son of His Eminence Namkha Drimed Rabjam Rinpoche and Khandro Chime Drolkar. He was recognized as the reincarnation of Jigme Tempay Gyeltsen, the 3rd Tamdrin Lhunpo Chogtrul. In conjunction with his recognition, he was enthroned at Namdroling monastery in Mysore amidst an ocean of lamas, tulkus, and monks presided over by Kyabje Drupwang Penor Rimpoche, who bestowed upon him the name Gyurme Thegchog Shedrub Tenpay Gyeltsen.