06aou(aou 6)16 h 00 min11(aou 11)14 h 00 minModule 3 : Enrichissement Gesar Drupchö (5 jours)16 h 00 min - 14 h 00 min (11)(GMT+2:00) View in my time Type d'événement:RIC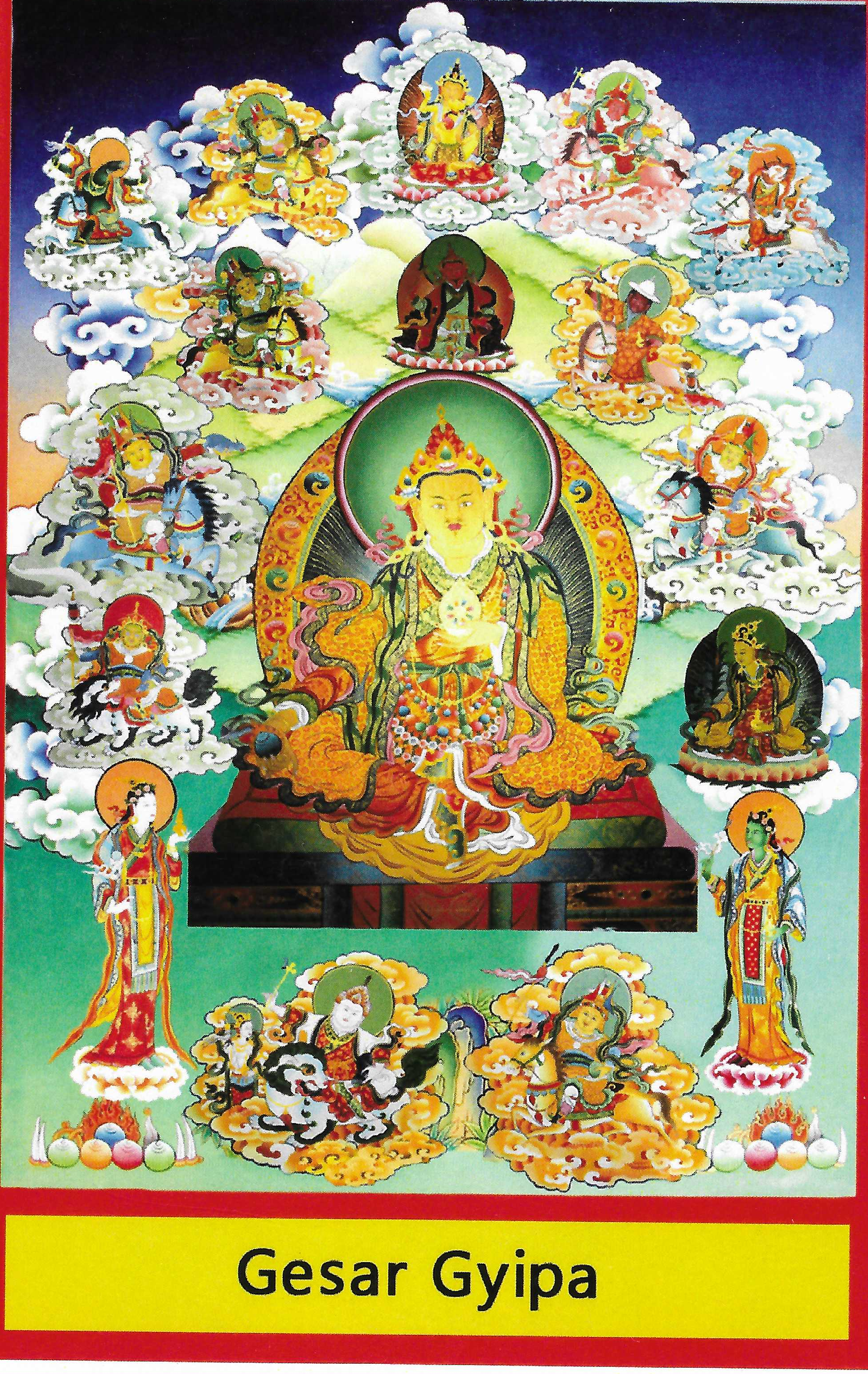 Détails de l'évènement

Nous sommes très heureux d'annoncer que Son Éminence Terton Namkha Drimed Rinpoché dirigera le Gesar Drupchö d'enrichissement, Wish Granting Jewel, au centre international de Ripa.

Le Guésar d'Enrichissement – aussi appelé Sengchen Samphel Norbu Gyalpo, Grand Roi Lion qui accomplit tous les souhaits – est l'incarnation de toutes les divinités de richesse, aussi bien de sagesse que mondaines. Cette pratique a été écrite par S.E. Tertön Namkha Drimed Rabjam Rinpoché lui-même, dans le cadre de la révélation du trésor de l'esprit du cycle d'enseignement de Guésar, avec la bénédiction du Gourou Padmasambhava.

C'est une occasion très rare de s'asseoir avec Son Éminence et de recevoir ces précieux enseignements. Dans cette vie, comme l'a prophétisé Gourou Rinpoché, Son Éminence est une émanation de l'esprit de Guésar. Au temps de Guésar, Son Éminence était Dongbumpai Gyatsa Gyalkar, le frère de Guésar.

Les enseignements de Guésar sont vitaux pour cette époque et cet âge de dégénérescence. Essentiellement, Guésar est l'émanation du corps de Manjushri, la parole d'Avalokiteshvara, l'esprit de Vajrapani. En qualité et en activité, Guésar est l'égal de Guru Padmasambhava.

On dit que la participation à une telle pratique apporte d'immenses bénéfices : elle permet d'améliorer la santé, d'augmenter la durée de vie et d'accroître le mérite et le succès dans la vie quotidienne.

Arrivée des participants le samedi 6 août à 4 pm

Le programme se termine le jeudi 11 août après le déjeuner

Exigences : avoir pris refuge et avoir reçu une transmission de pouvoir de la lignée Ripa.

PRIX Résidentiel:

Bienfaiteur CHF 320

Normal CHF 250

Réduit CHF 190

PRIX Online:

Bienfaiteur CHF 350

Normal CHF 290

Réduit CHF 190

Si vous avez besoin des textes, vous pouvez les commander en ligne avant le 1er juillet afin qu'ils soient prêts le jour du début de Drupchö.
Temps

6 (Samedi) 16 h 00 min - 11 (Jeudi) 14 h 00 min(GMT+2:00) View in my time
Intervenants pour cet événement
Dungsey Gyetrul Jigme Rinpoche

Dungsey Lhuntrul Dechen Gyurmey Rinpoche

Dungsey Lhuntrul Dechen Gyurmey Rinpoche

Lhuntrul Dechen Gyurmey Rinpoche was born, in keeping with Guru Rinpoche's prophecy, in 1976 as the son of His Eminence Namkha Drimed Rabjam Rinpoche and Khandro Chime Drolkar. He was recognized as the reincarnation of Jigme Tempay Gyeltsen, the 3rd Tamdrin Lhunpo Chogtrul. In conjunction with his recognition, he was enthroned at Namdroling monastery in Mysore amidst an ocean of lamas, tulkus, and monks presided over by Kyabje Drupwang Penor Rimpoche, who bestowed upon him the name Gyurme Thegchog Shedrub Tenpay Gyeltsen.